Here we have a few more extracted photos of the CPA aircraft from the YouTube video mentioned in NetLetter # 1429.
Posted by Aeomaster32
Aircraft identification by Ken Pickford
Bristol Britannia at Vancouver - hangar in background (still standing today on the south side of the airport) was built for the Britannia (it was big enough for two) and was always known as "the Britannia Hangar" long after the type was retired.
---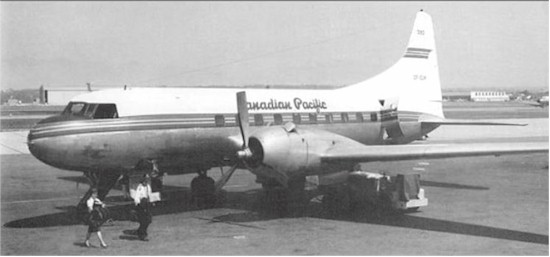 Convair 240 at the now closed Edmonton Municipal Airport (YXD).
---
Douglas DC-6B at what looks like Vancouver. That livery was introduced with the first DC-8s in 1961 and replaced the livery seen on the Britannia and Convair 240 above. That "goose" livery (for the Canada goose on the tail) lasted until the orange CP Air branding was introduced in late 1968.
---
McDonnell Douglas DC-10-30 (not sure where).
---
They are members of one of Canada's most exclusive aviation fraternities and there will never be a new member.
They are the crews of the Pacific Western Airlines Lockheed Hercules air freighters.
Click Here to read the full story as published in the Edmonton Journal.
Below we have this photo of the former PWA Hercules air crew loadmasters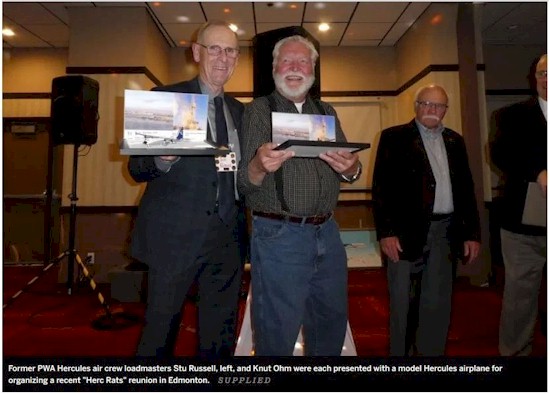 Stu Russell, left, and Knut Ohm who were presented with a model Hercules airplane for organizing a recent "Herc Rats" reunion in Edmonton
---
Here is a PWA Hercules freighter co-pilot Don Copping, sitting, and crew member Don Wine get a warm welcome when they landed in Kathmandu, Nepal, in 1971 with relief supplies following a natural disaster.