2017
June 22 - Inaugural Rouge flight AC1970 Toronto - Reykjavik, Iceland with A319.

Inaugural Rouge flight Montreal - Reykjavik, Iceland with A319.

Service commenced by Rouge Montreal - Tel Aviv.
July 1 - Service commenced by Rouge Montreal - Algiers.
Service commenced by Air Canada mainline between Toronto - Mumbai.
---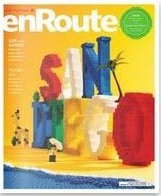 Here is the cover of the enRoute magazine issued August 2010.

(Source: issuu.com)
---
Continuing the Time Travel: 75 Years in Events.
Started in NetLetter #1419.
1957 - Vanguard Costs Pretty Penny

In 1957, TCA places an order worth CA$67 million for the British-made Vickers Vanguard, the big brother of the Viscount.
This is the largest single-dollar order ever placed in postwar Britain. The Vanguard can fly on routes not suited to the shorter-range Viscount.
By 1964, TCA has 23 of the aircraft in its fleet.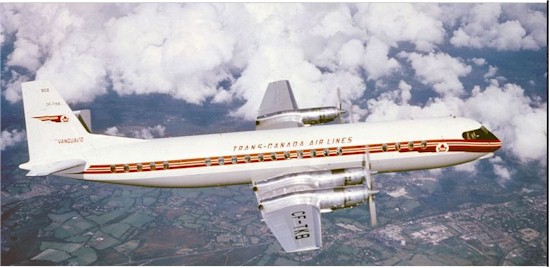 ---
TCA flies non-stop across Canada!

TCA flies their first non-stop flight from Toronto to Vancouver on June 1, 1957.
The record flight, which skips the Winnipeg stopover, takes 8 hours, 32 minutes on a Super Constellation.
TCA's first transcontinental flight, in 1939, took more than 16 hours, with stops in North Bay, Winnipeg, Regina and Lethbridge!
(Source: moments.aircanada.com/timeline)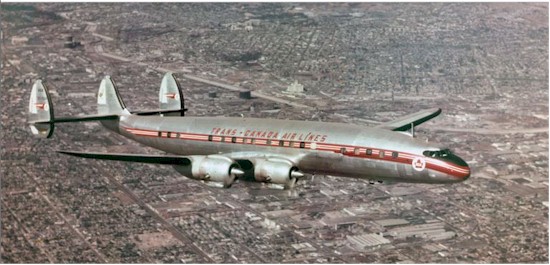 ---
Early Trans-Canada Air Lines historical event in 1947-8.

Traffic rights at Shannon have been granted to Trans-Canada Air Lines for one flight weekly in each direction.
As from October 1, 1947 TCA North Stars will leave London Airport four days a week for Montreal, calling at Shannon each Wednesday.
On Tuesdays, Fridays and Sundays departure will be from Prestwick.
(Source: flightglobal.com,
Note: Registration required to view archives)
---
Change of responsibility.
On May 1, 1947, Trans-Canada Air Lines (Atlantic) Ltd., assumed responsibility for the transatlantic air service previously operated by the Canadian government. Throughout the year a basic schedule of one daily trip each way was maintained between Montreal and the U.K., and during the summer as many as 17 round trips a week were operated.
Referring to future services of TCA, it is made clear that progress in 1948 will be measured not so much by extensions of its routes as by improvements in speed, comfort and capacity. It is expected, however, that in 1948 a North Star service to Bermuda will be commenced.
(Source: flightglobal.com,
Note: Registration required to view archives)
---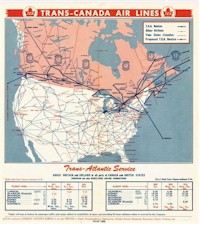 From the timetable issued 1947.
Image from the collection of Antonio Bordoni

(Source: www.timetableimages.com)
---

From the "Horizons" magazine
Issue dated October 1988.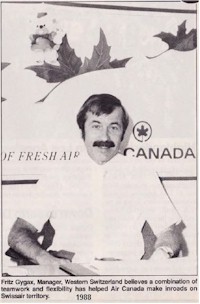 For Fritz Gygax. Manager, Western Switzerland and the seven other members of the Air Canada team in Geneva during 1988 working on the turf of one of the world's best airlines is a provoking challenge which continually puts their ingenuity to the test.
Here we have photos of five of the seven employees and the manager: Fritz Gygax, Manager, Western Switzerland believes a combination of teamwork and flexibility has helped Air Canada make inroads on Swissair territory.
---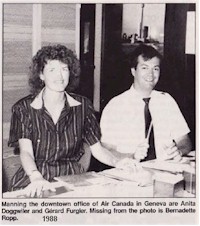 Manning the downtown office in Geneva are Anita Doggwiler and Gerard Furgler.
Missing from the photo is Bernadette Ropp.
---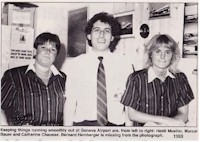 Keeping things running smoothly out at Geneva airport are, from the left: Heidi Mueller, Marcel Bauer and Catherine Chausse. Bernard Hamberger is missing from the photo.
---
Issue dated November 1988.
Auf wiedersehen Munich!
This is part of a report Keith Hatfield provided -
On the eve of our cessation of service to Munich, a group of Halifax employees embarked on a 'Farewell to Munich' trip.
To help boost spirits on this potentially solemn occasion, the pilgrimage was planned to coincide with the kick-off weekend of Munich's famous Oktoberfest; the world's greatest annual party.
The staff at our Munich ticket office managed to obtain hotel accommodation for our group of 12; no mean feat during the busy Oktoberfest period.
While in Munich, Halifax Customer Sales and Service Agent Bob Lockyer took this photo of his colleagues.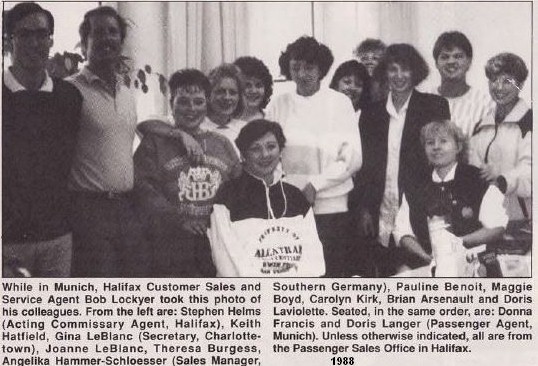 ---
Issue dated December 1988.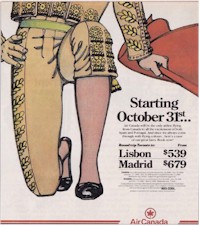 1988 - October 31 - Commenced thrice weekly service to Lisbon and Madrid from Toronto and Montreal.
October 31, 1988 was not only a special day for ghosts and hobgoblins, it was also a particularly important day for Air Canada, the date of our official inaugural flight to Lisbon and Madrid.
Flight 884 left Toronto and Montreal with a revenue load factor of 86 per cent and some very happy passengers delighted at the prospect of being part of Air Canada's history.
In these photos we feature some of the Air Canada people in Toronto, Montreal and Lisbon who helped make that first flight happen.
The In-Flight crew of Flight 884 from left to right: Peter Kurzreiter, Jean Paul Matéus, Karin Chevallier, Donna Walker, Helen Burn and Juan Rodriguez.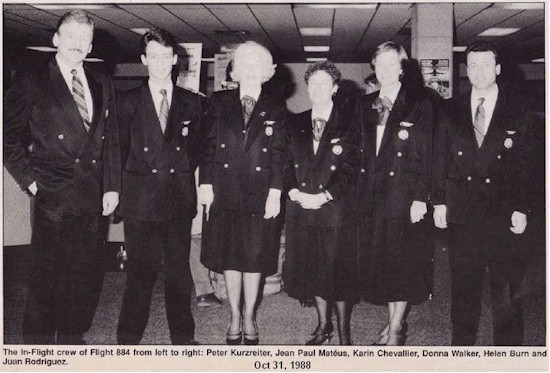 ---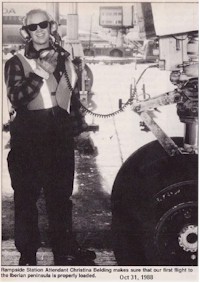 Ramp side Station Attendant Christina Belding makes sure that our first flight to the Iberian Peninsula is properly loaded.
---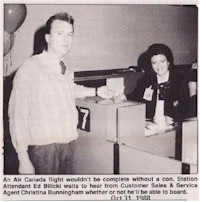 An Air Canada flight wouldn't be complete without a contingent standby.
Station Attendant Ed Bilicki waits to hear from Customer Sales & Service Agent Christina Bunningham whether or not he'll be able to board.
---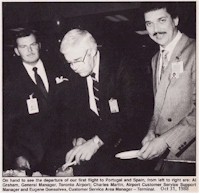 On hand to see the departure of our first flight to Portugal and Spain, from left to right are: Al Graham, General Manager, Toronto Airport; Charles Martin, Airport Customer Service Support Manager and Eugene Gonsalves, Customer Service Area Manager, Terminal.
---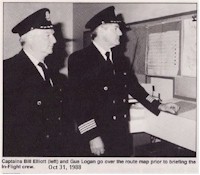 Captains Bill Elliott (left) and Gus Logan go over the route map prior to briefing the In-flight crew.
---
Issue dated January 1989.
Cargo retirees get together in Vancouver.
At one of the Air Canada 50th anniversary celebrations held in 1987, Cargo retirees Ken Horton and Fred Pope hit upon the idea of organizing a different kind of cargo get-together. The result was the gathering of 15 former Traffic Department (Cargo Sales) employees along with spouses in Vancouver.
Among those who attended were: Stan Sherritt, Mel Veverka, Ken Horton, Len Sampson, Roy Stringer, Fred Pope, Alec Main (the senior citizen of the group at age 84), Bob Hainstock, Stu Christie, Peter Henderson, Hank Ernst, Ken Shaw, Dick McCullough, Bruce Wrigley and Anita David.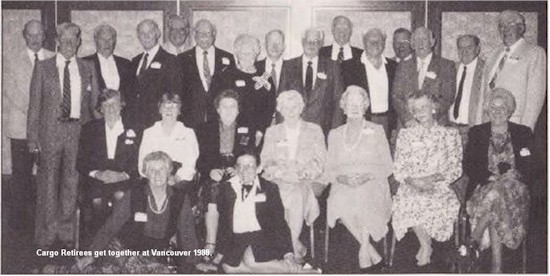 ---
TCA Alumni holds reunion.
The 17th reunion of the TCA Alumni was held at the Breckenridge Resort Hotel in sunny St. Petersburg during 1988.
This year 211 members attended the three-day gathering, which featured a welcome cocktail party, a breakfast business meeting, a fashion show and the ever popular daily 'happy hours'.
The new TCA executive consist of:
Walter Chopp, president; Walt Bailey, vice president; Stephanie Chopp, secretary/treasurer; and Margaret Bailey, social director.
Malcolm and Sally Macdougall, the retiring president and secretary/treasurer, were warmly thanked for their contribution to the organization over the past four years.
In the photo are, standing, from the left:
Gerry Quesnel, Jim Gehlsen, Malcolm and Sally Macdougall, Clint Morgan and Frank Millman.
Seated in the same order are:
Dorothy Williamson, Therese Quesnel, Patti Gehlsen, Estelle Morgan and Dorothy Millman.