Letter from a cargo worker.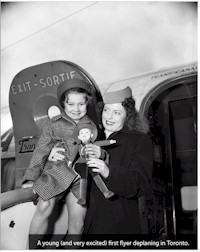 "In 1959, I took my first flight ever from Boston to Halifax, Nova Scotia, where my grandmother was from and where my relatives lived. Flying was exciting then.
Everyone dressed up and all the family came to the airport to see me off. Although I was a kid, I remember it well. As we walked out to the tarmac, my uncle was taking pictures.
My mother told me not to talk to anyone, so I didn't. I sat there and was amazed that they served eggs with ketchup. I remember flying over Nova Scotia and seeing all the beautiful trees. For a young girl of 12, it was as exciting as anything I could think of. I still get a thrill flying Air Canada, after all these years."
Pat Karakashian, retired Air Canada Cargo worker.
(Source: moments.aircanada.com/timeline)
(Anyone care to share their first flight experiences – eds)