1989 Events
March 17 - Inaugural service between Canada & Nice, France.
April 3 - Inaugural service between Montreal - Newark with DC-9 equipment.
April 6 - Inaugural service between Toronto - Zagreb, Yugoslavia.
December 17 - Direct service Montreal - Eleuthera, Bahamas commenced with B-727 aircraft.
---
Continuing the Time Travel: 75 Years in Events.
Started in NetLetter # 1419.
1959 - Airport Boom
The rapid growth of airline traffic in Canada spurs an airport building boom in 1959, including Malton Airport in Toronto (Pearson's precursor).
Meanwhile, in Montreal, Dorval's new $20-million maintenance and overhaul base begins construction in preparation for the big jets; the upcoming Douglas DC-8's and Vickers Vanguards.
The base is designed solely for turbine-powered aircraft and covers a massive 18 acres.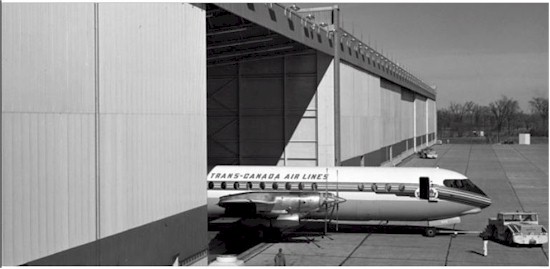 ---

Squirreled from the "Horizons" magazine.
Issue dated April 1989.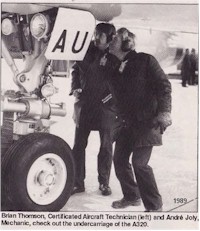 During early 1989, an Airbus A320 was operating out of Yellowknife for cold temperature tests prior to the introduction to North America and certification by Transport Canada. Both Air Canada and Canadian Airlines participated.
In this photo are Brian Thomson, Certified Aircraft Technician (left) and Andre Joly, mechanic, check out the undercarriage of the A320.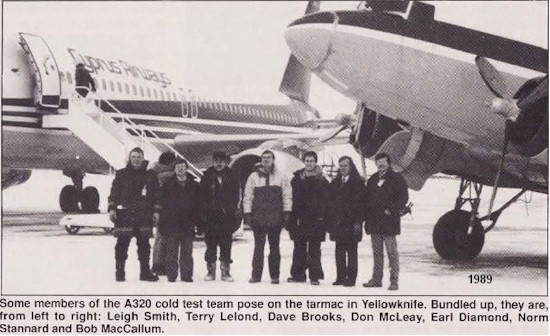 ---
Group goodbye for Léo.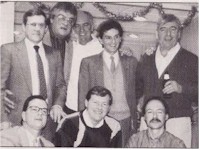 When it came time to say goodbye to Val d'Or Station Agent André Léo Gervais, his friends would not let him retire without posing for an official group portrait.
Léo is seen here, standing second from right, with Guy Quesnel (far right) and, left to right: Stu Nye, Bob Lariviére and Bob Lavergne.
In the front row, from left to right, are: L.P. Parizeau, Gary Poisson and Paul DesRosiers.
---
YUL Cafeteria staff cook up feast fit for thousands.
For cafeteria staff at the Dorval Base, preparing and serving meals to thousands of people is a daily task. But once in a while, there's an opportunity to cook up a culinary treat.
Such was the case in December 1988 when they prepared Christmas dinner for more than 3,600 employees. The shopping list for such a large crowd included: 75 turkeys. 150 lbs. of meat for tourtiere, 825 lbs. of potatoes, 600 lbs. of peas, 275 dozen rolls and 450 lbs. of mincemeat.
In the photo the cafeteria staff take a breather before the onslaught of hungry employees.
From left to right are: Heidi Frauenhoff, Greg Santini, Guy Parent, Margarida Farias, Joyce Hylton, Yolande Leblanc, Johnny Mansi, Ginette Fortier and Lucille Hernandez.

---
Nice send off from London.
Passengers on our inaugural flight to Nice were given quite a send off at London's Heathrow Airport (LHR).
Four Passenger Agents, decked out in traditional Nicoise costumes, greeted passengers and presented them with carnations. The check-in counters were bedecked with colourful mimosa and a sparkling wine from the south of France was served. Passengers also received a gift pack of French liquor and perfume and to give the occasion a truly French flavour, an accordionist serenaded the crowd with some well known tunes.
The fun didn't end there. The four Passenger Agents accompanied the flight and, upon arrival in Nice, emerged from the aircraft wearing British circus ringmasters outfits with Union Jack waistcoats.
The six Heathrow staff who came up with the promotional ideas and made it all happen are shown prior to the flight's departure for Nice.
From the left are: Linzi Ireland, Joanna Buizacki, Katy McDonald, Gerard Hall, Sophie Bruce and Anne-Marie Marlier.
---
Issue dated May 1989.
Meeting makes history.
April 26, 1989 marked another important event in Air Canada's history when more than 1,200 shareholders, including a number of active and retired employees, attended the airline's first annual general meeting at the Montreal Convention Centre.
On hand to help direct shareholders to Air Canada's first annual general meeting are (from left to right): Montreal-based Captain Jean Cadorel; Customer Sales & Service Agent Jocelyne Laliberte; Flight Attendant Mike Harris; Captain Jules Bergeron and Flight Attendants Louise Hebert-Rooney and Cindy Bertrand.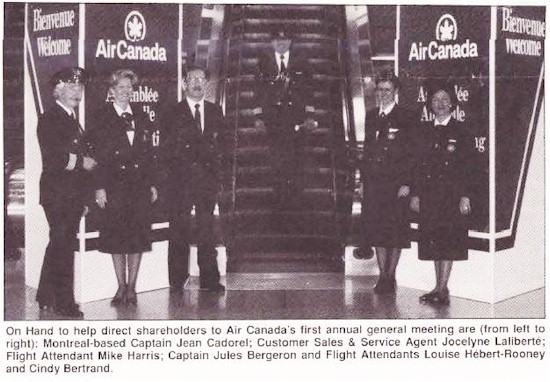 ---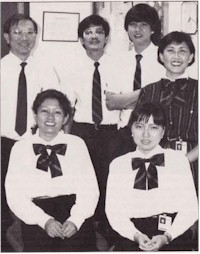 From 1989, our staff at Changi Airport, Singapore include, standing, from the right: Peter Khaw, Airport Services Manager and Airport Services Coordinators Koh Hock Siew, Allen Leng and Safiah Rosli.
Seated are Airport Services Coordinators Linda Chee, left, and Selene Lam.