Continuing the Time Travel: 75 Years in Events. Started in NetLetter #1419.
1962 - Queen Mother flies TCA
The Queen Mother chooses a TCA flight from London to Montreal on June 7, 1962, as her first commercial flight alongside other passengers.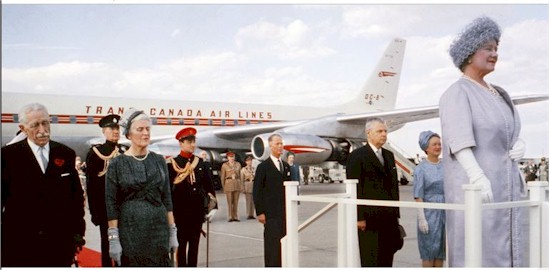 ---
1963 - Computerized Reservations

ReserVec, the world's first computerized reservation system, changes the ticketing game in January 24, 1963.

Invented by the Canadian firm Ferranti, the system means significantly fewer man-hours, as tickets can now be produced automatically by valuable computer equipment (the inaugural equipment in Toronto was worth upwards of $1.5 million and filled an entire room).
Operators enter the flight number into the machine and can sell or cancel a seat and check availability with the push of a button.
(Source: moments.aircanada.com/timeline)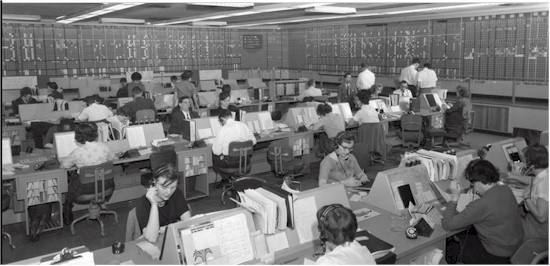 ---

From the "Horizons" magazine.
Issue dated May 1989.
Attendees and organizers of Air Canada's first Aircraft Maintenance Engineer Basics Course in Montreal smile for the camera at the end of the seven-week course held during the spring of 1989.
Front row, left to right: A. Santerre, J. Jacinto, J. Stevenson, S. Adamiak, G. Wingfield, L. Hewer, B. Byrom, A. Svitak, B. Morrison, D. Lemmon and M. Prigioniero.
Middle row, left to right: N. Boudrias, C. Clegg, J. Kingston, H. Théorin, T. Araujo, J. Paul, J. Bicknell, G. Pelley, G. St-Jacques, A. Benoit, R. Beal, J. Dixon, J. Habberfield and G. Duchesne.
Back row, left to right: J. Gibson, D. Hrabok, P. Bayle, L. Ledin, H. Fischer, M. Burridge, P. Content, F. Sansalone, B. Lundquist, S. Tweedie, H. Liebner, P. Germain and C. Porteous.

---
Issue dated June 1989.
Boston staff welcome the President.
During a visit to Boston during 1989 President Pierre Jeanniot got together with some of the local employees.
In the photo are (from left to right): Eileen McCoy, Manager, Boston; Joe Trimarchi, Sales Representative; John MacInlyre, Customer Service Agent; President Pierre Jeanniot; Susan Guarino, Customer Service Agent; Sol Matlick, Sales Manager, Hartford; Dave Cresman, Airport Manager; Lise Cooley, Customer Service Agent; Susan Namara, Sales Representative; Pat Panarese, Secretary and Mary Chierus, Senior Secretary.

---
Maniacs move into the Cargo marketplace.
Put 32 Area Sales Managers and 22 District Sales Managers from all over North America; add two headquarters Training and Product Support Managers plus two "energy catalysts" together in Toronto's Inn on the Park on April 25, 1989 for six days... and what do you get? A reawakened and regenerated group of "Marketplace Maniacs."
A synergetic, focused and enthusiastic sales force ready not only to give 120 per cent of their effort, but also to reposition the cargo product as the best in the marketplace. AC Cargo is number one not only because of hundreds of cargo people who make sure it works. but because in day-to-day operations we have the cutting edge called 'Quality'.
In this photo we have The North American Cargo Sales Force is made of, from left to right, back to front:
Ray Herrington (Boston), John Townsend (Calgary), Dale Gosney (San Francisco), Tony Pugh (Vancouver), Larry Conway (Los Angeles), Jason Troncale (Miami), Yvon Viau (Miami), Rodger Gadsden (Vancouver), Serge Larue (Montreal), Randy Dallinger (Regina), Jim O'Neill (Seattle), Bob Burnett (Toronto), Pat Finnan (Edmonton), Glen Robertson (Montreal), Gord Croucher (Toronto), Gord Dossett (Montreal), Paul Badics (Toronto), Diane Ellison (Montreal), Janice Fines (Vancouver), John Fox (Montreal), Ken Dzogan (Moncton), Bernadette Small (Toronto), Ken Johnson (forum group), Peter Maw (forum group), Pierre Faubert (Ottawa), Art Staley (Tampa), Dave Bordian (Winnipeg), Ed Bownes (Montreal), Pat Ryan (St. John's), Robert Quevillon (Montreal), Pat Ryan (Halifax), Reg Kenny (Moncton), Bru Filmore (Saskatoon), John McGilvray (New York), Dave Tangry (Vancouver), Gary Miles (Vancouver), Bob Viau (Montreal), Louise Ladouceur (Montreal), Pam Keating (Tampa), Mary Browne (St. John's), Anne Baxter (Halifax), Ken Joudrey (Halifax), Steve Vero (New York), Rick Morphew (London), Tony Schoen (Winnipeg), Anne Sawchuck (Winnipeg), Jack Kohen (Toronto), Dave Wirsing (Toronto), Keri Arthur (Calgary), Fred Rabenneck (Chicago), Gene Wawryk (Calgary), Lorrie Curren (Edmonton), Rod McLellan (Edmonton), John Jamison (Ottawa), Cathy Jacquin (Montreal), Mike Zozula (Toronto), Herb Guilfoyle (Montreal), Ron Carr (Toronto) and Bob Johnson (Ottawa).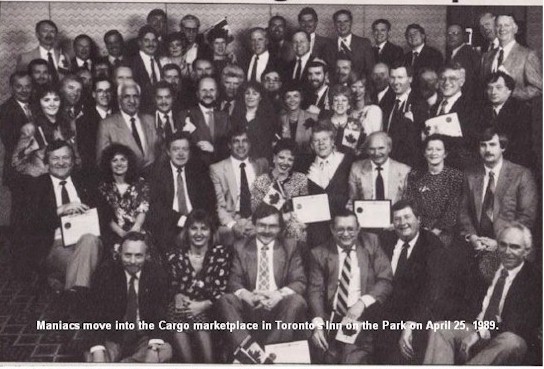 ---
Issue dated July 1989.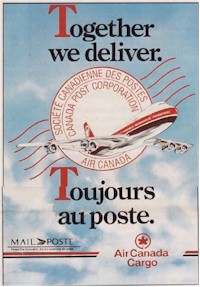 Here we have this advertisement by the Cargo department with caption: "Together we deliver."
---
LHR lead free fuel.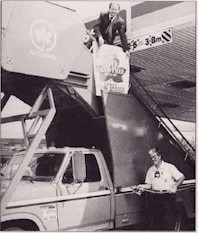 Lead Station Attendant Alec Miles fills the tank of an aircraft steps vehicle with its first unleaded fuel as Air Canada's Airport Manager, Peter Baldry, promotes the 'go lead free' message.
---
Royal Air Canada Pursuit Squadron.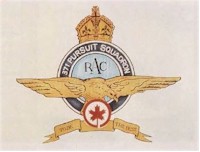 In the following account Jim Gould, General Manager, Western US, outlines an innovative new recognition and reward program he's introduced in his area.
During 1988 the California management group was looking for a new way to recognize exemplary performance among our employees. We wanted to do something beyond the pat on the back or the letter on the personal file. We wanted this recognition to be different, have a sense of spontaneity and we didn't want it to be a formal program.
We wanted to recognize performance whenever it was deserved, with no time constraints and no limits. We also wanted our award to be in keeping with the quality of our First and Executive Class services, which are absolutely unique in the US marketplace these days and finally, we wanted it to elicit a reaction of both surprise and pleasure from the recipient.
Ultimately, we decided to give a $50 gift certificate from an upscale chain of west coast department stores. To date, we've awarded certificates for many different kinds of exemplary performance and the reaction has been everything for which we had hoped.
Earlier this year, when we were considering what we might do for our very special key accounts, we decided that we should also recognize those few special employees who serve those accounts and their customers and who, day in, day out, are an example for us all.
And what would be a suitable award? Why not an airplane ride...in a Stearman Bi-plane? But, as part of the enjoyment of this style of flying is doing it in a group, we said "OK, let's fly with a squadron".
Then we thought that if we were going to give people the thrill of flying in a 1930's style aircraft, an appropriate memento of the occasion ought to be a 1930's style leather flight jacket.
And then we took the logical final step. If we were going to do something as hokey as giving our special people leather flight jackets and treating them to formation flying in old fashioned airplanes, we really ought to go all the way and create our own squadron. And that's what we're going to do.
In September 1989 we will formally celebrate the maiden flight of the Royal Air Canada Pursuit Squadron. In our little corner of the Air Canada system, this will be the highest form of recognition that we can offer our very special accounts and employees.
(Anyone remember receiving this award? eds)
---
Issue dated August 1989.
Maple Wing-ding in Winnipeg.
The Canadian Maple Wings, an association of former T.C.A. and Air Canada flight attendants, recently hosted a get-together in Winnipeg to celebrate the 50th anniversary of T.C.A.'s first official training class. Among the event's special guests were eight of the first 14 graduates from the class of March 1939 and two of T.C.A.'s early stewardesses - Lucile (Garner) Grant and Lela (Finlay) McKay.
A welcome reception gave everyone an opportunity to mingle and chat with old friends and to meet an honorary member of the Maple Wings - Bernie Miller, Vice President, In-Flight Service.
The next morning the annual general meeting was held at the Western Canada Aviation Museum, which was housed in the old airport hangar - site of the class of '39.
Gail Todd was named the new president (taking over from June Seymour) and a new board of directors was appointed. At the luncheon which followed, Bernie Miller gave an entertaining speech and presented each of the honoured stewardesses with an orchid corsage.
Later that evening Chairman Claude I. Taylor and his wife Fran were the guests of honour at a banquet and officiated at the presentation of plaques to T.C.A.'s first stewardess - Lucile (Garner) Grant and the latest Flight Attendant to join Air Canada - Joquim Carriera.
Celebrating past and present in our photo we have (left to right): Ruth (Leslie) Heenan, Bernie Miller, Lela (Finlay) McKay, Joquim Carriera and Lucile (Garner) Grant.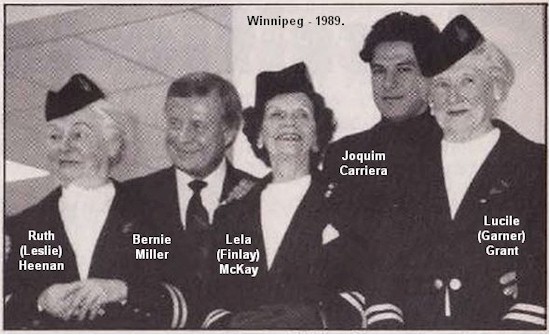 ---
Issue dated July/August 2015. (with permission).
Accelerated Revenue.

We featured a story about a relatively small team from our Revenue Management and I.T. branches. This small team is the focus of very big news.
"Accelerating Revenue" is about a new system that has long been in the works to enhance our revenue optimization. It calculates the best revenues based on a passenger's full-trip itinerary and point-of-sale, rather than on an individual flight leg. The method has the potential to deliver additional annual revenues in excess of $100 million!
In this photo the Revenue Management team:
Back row from left to right: Rémi Gravel, Chris Geraghty, Lucio Bustillo, Chris Kanatselis, Manuella Meilchen, John Sagar, Claudia Ceglia, Ping Zhang, Jacques Cherrier, Richard Cléaz-Savoyen, Michel McDonnell, Sebastian Domanski and Janik Gagné.
Middle row from left to right: Caroline Dietrich, Luc Simard, Juan Carlos Cruz, Shamra Hauck, Lilia Shvetsov, Jocelyne Lemaire, Mikhaël Bourassa, Karen Bowman and Jin Jin.
Front row from left to right: Samira Ait-Benali, Navneet Kaur, Madeleine Pinault, Marie-Claude Roy, Morgan Jacob, Pascale Batchoun, Deborah Young and Francesca Giampapa.