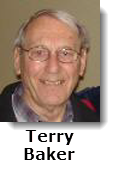 Terry Baker, co-founder of the NetLetter scours the internet for aviation related Trivia and Travel Tips for you, our readers, to peruse.
On August 9, 1934, the first flight from inland Canada (Wasaga Beach, Ontario) to the UK, a distance of 3,700 miles, landed at Heston Aerodrome near London after a flying time of 30 hours 55 minutes.
The pilots, J.R.Ayling and L.G.Reid, in a DH.84 Dragon (G-ACJM) named "Trail of the Caribou", were attempting to beat the then long distance flying record (5,657 miles) by flying 6,300 miles from Wasaga Beach to Baghdad.
However, icing of the engine throttle controls increased fuel consumption and, together with bad weather, resulted in the flight being terminated early.
Reference from Peter Lewis, British Racing and Record-Breaking Aircraft.
(Source: en.wikipedia.org/wiki/Heston_Aerodrome)