Continuing the Time Travel: 75 Years in Events. Started in NetLetter #1419
1963 - TCA became the world's first major airline with an all-turbine fleet when it retired its last piston-engine aircraft, a Douglas DC-3, in 1963.
With the purchase of the exciting DC-8 aircraft, TCA's first jet, TCA – which became Air Canada in 1965 – revolutionized the Canadian airline industry and cut flying time in half.
(Source: moments.aircanada.com/timeline)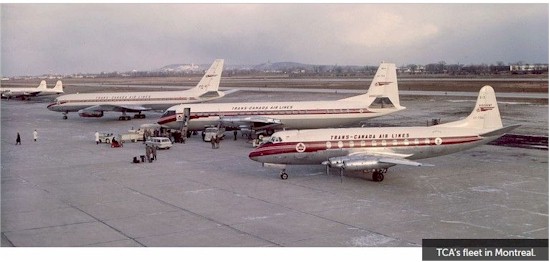 ---

Issue dated September 1989.
Bombay staff don fancy duds.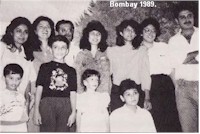 Bombay's ACRA hosted a fancy dress competition and both employees and their kids decked themselves out in colourful and imaginative costumes.
Top prizes went to Arren Bowen in the toddlers category and Dinaz Keshwala in the adults group.
In the photo are, back row (left to right): Melissa Iyer, Dinaz Keshwala, Pankaj Dawda, Firoza Batliwala, Elaine Desouza, Gulrukh Mehta and Ashwani Malhotra.
In the front row are (same order): Arren Bowen, Kaizad Bharucha, Tushna Bharucha and Kyan Bharucha.
---
Duke hangs up his tools.
When Edmonton Lead Mechanic E.L. (Duke) Knopp retired he was the guest of honour at a farewell party held by Flight Support Equipment Maintenance staff. Duke is seen here seated between Sherry Stark and Karen Kipling.
Standing from left to right are: Lyle Sorenson. Nestor Malowany, Hans Brower, Bob Kozack, Don Harbarenko, Myles Adams, Denver Lauridson, Jack Ewing, Roger Simpson and John Rempel.
---
Issue dated October 1989.
New pilots join the ranks.
Graduates of Air Canada Course 89-3 and 4, an initial pilots course are seen here with Instructors Pierre Forget and Denise Egglestone after successful completion of the 18-day training session held in Montreal.
Our photo for Course 89-3 we have:

Back row (left to right): Pierre Forget (Instructor), Bruce White, Guy Trudeau, Dahl Manthorpe, Ken Jones, Sylvain Martin, Suzanne Henderson, Phil Korman, Glenn Marquis, Ron Platt, Randy Putnam, Alain Hild and Denise Egglestone (Instructor).
Front row (same order): Grant Corriveau, Yvan Robichaud, Al Graham, Doug Totten, Lyle Folkmann, Bruce Klassen and Joe Persoja.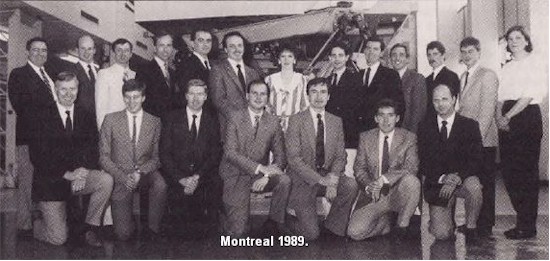 ---
In our photo for Course 89-4 we have in the back row (left to right): Pierre Forget (Instructor), Manjeet Thind, Christian Comeau, Mike McKay, Phillipe Bleau, Rick Roberts, Elaine Bradbury, Doug Black, Mario Guillemette, Pat Vaughan, John Baron and Denise Egglestone (Instructor).
Front row (same order): Jeff Sparkes, Daniel Bouchard, Glenn Swetlishnoff, Jeff Crawford, Doug Cochrane and Claude Saint-Martin.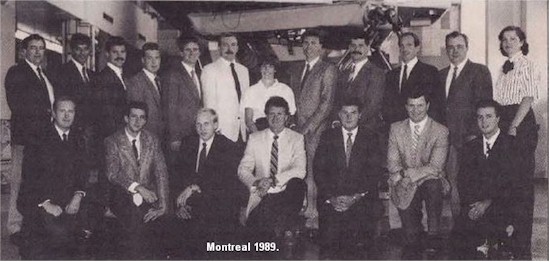 ---
Demolition day for London crew.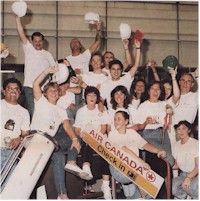 Over the past three and a half years our customer service staff at London Heathrow's (LHR) Terminal 3 have worked in the midst of a noisy and dusty construction zone, as Heathrow Airport Ltd.'s (HAL) multi-million pound modernization program took shape around them.
As Air Canada was one of the last airlines to move, the leaky ceiling, icy winter winds and cramped facilities made for anything but pleasant working conditions, and passengers, often forced to queue beside cranes outside the terminal, were not spared their share of frustration and inconvenience.
Even the mice, in desperation, joined the agents in their lounge. Finally, on August 21, 1989 Heathrow staff were able to vent their pent-up frustrations in a bang-up fashion.
Decked out in jeans and T-shirts and waving hard hats, our demolition squad in Heathrow's (LHR) Terminal Three celebrate the destruction of their old check-in desks.
---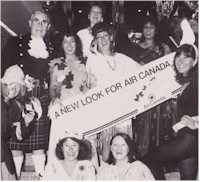 For the grand opening of the new check-in area, staff celebrated a "new look for Air Canada".
In the front row are (left to right): Anne Thompson, Sue Heath, Sharon Chandler and Judy Greenwood.
And standing behind them are: Brian Flanagan, Caroline Stanley, Nicki Perrier-Flint, Adele Wills (behind Nicki) and Heera Pankhania..
---
Issue dated November 1989.
First Airbus team ready to fly.
Meet the first Air Canada Flight Attendants qualified to work on the Airbus A320. The 16 graduates underwent an intensive two-week training session in Montreal and Toronto and more than 4,500 cabin and support staff would be trained in the coming months.

In the photo are standing (left to right): Robert Daousl, John Amoor, Bonnie Simpson, Susan Harris, Chris Aveline, Bruno Ciaramicoli and Ray Farkas.
And seated (same order) are: Chantal Viau, Angela Godin, Carroll O'Connell, Janice Baptiste, Connie Pfeiffer and Andrea Morgan.
Missing from the photo is Ardyth Cleveland.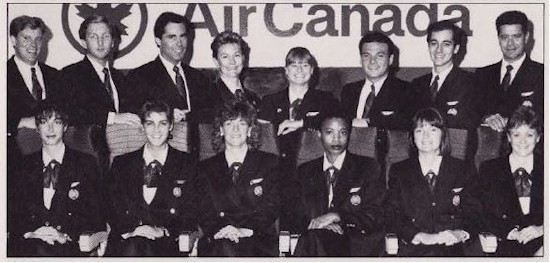 ---
Issue March 1990.
A320 makes its Canadian debut.
The first of our Airbus A320's - fin 201- has been the centre of attention since it arrived in Montreal on January 27, 1990. The plane visited Toronto, Ottawa, Winnipeg, Calgary and Vancouver, where viewing sessions were organized for journalists, civil dignitaries, employees, retirees and their families.
At the Official launch of the A320 in Montreal, Bruce Aubin, Senior Vice President, Technical Operations presented a number of Maintenance employees with a special plaque in recognition of their contribution to the introduction ot the Airbus into the Air Canada fleet. The A320 team stands in front of fin 201 with Bruce Aubin.
They are, from left o right: Mike Treacy and Pierre Jean (Winnipeg); Nelson Fraser, (Ottawa); Doug Platt and Tom Lumb (Toronto); Dennis Dreger (Montreal); Karl Krupka (Toronto); Ernest Kesseler (Montreal); Sam Batthish (Toronto); Michel L'Ecuyer, Bruce Aubin, Gerry Richardson, Rick Palmer, Brian Dobson, Cosmo Colozzo, Roger Chaput, Richard Cadieux and Dave Brooks (Montreal).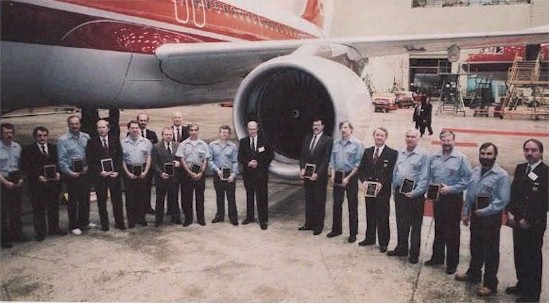 ---
What is a 'Pionair'?
A Pionair is any individual retired from any of the legacy airlines that are now a part of Air Canada regardless of years of service, position held, contract or non-contract, management or non-management and shall include wives or husbands, widows or widowers.
There is no distinction or position level maintained, all are equal members with the objective to maintain and continue close friendships and associations and develop goodwill to Air Canada to assist the company with the promotion and selling of its services and interests in whatever viable manner may be appropriate.
If you are not a member, why not check out their web site www.pionairs.ca
---
Air Canada marked 40 years of service to Tampa International Airport on April 2, 1990.
In 1950, the airline, then called Trans-Canada Air Lines (TCA), was the third commercial carrier and the first foreign airline to operate into Tampa.
Air Canada has come a long way from the approximately 6,300 passengers it carried on its 40-seat North Star aircraft on the route.
Below, crowds gather at Tampa/ St. Petersburg Airport to greet the arrival of the first TCA flight from Canada on April 21, 1950.