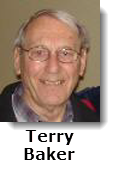 Terry Baker, co-founder of the NetLetter scours the internet for aviation related Trivia and Travel Tips for you, our readers, to peruse.
Airbus A220-300 in Yellowknife for Cold Weather Trials.
Canada has a long tradition in cold-weather aeronautical testing. As early as the winter of 1926-27 a Siskin fighter conducted a host of demanding trials from the RCAF station at High River, Alberta.
Subsequently, the RCAF and National Research Council did much pioneering R&D re cold weather. The pace of all such science was spurred by the war. Postwar, the RCAF's famous Winter Experimental Establishment tested a long list of aircraft in severe weather from such bases as Namao (Edmonton), Fort St. John, Cold Lake and Churchill.
See "Sixty Years: The RCAF and CF Air Command 1924-1984" for a good history of WEE Flight.
See "Aviation in Canada: Evolution of an Air Force" for further coverage in the pre-WWII period.
Yellowknife recently had a rare visitor and another chance to feature itself as a centre for cold weather trials. On January 12, 2020 Airbus A220-300 C-FFDO landed there from Winnipeg to undergo some special testing. That afternoon Yellowknife had a temperature of -45C, so no one could complain about conditions.
"FFDO" sat outside being "cold soaked" (sitting outside with all aircraft power turned off).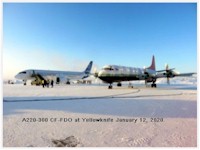 On taxiing in at Yellowknife, "FFDO' parked beside the Buffalo Airways Lockheed Electra whose captain, Tony Jarvis, took this great photo.
The purpose of the testing was to change the A220's certified cold weather operations limit from -35C to -40C. On January 14, 2020 "FFDO" — by then thoroughly cold soaked — made a 49-minute local flight. Ground testing continued until January 18, 2020 when it departed for base at Wichita via Calgary and Kansas City.
A220-300 "FFDO" was manufactured in Montreal in March 2016 as Bombardier CSeries CS300. Designated "Flight Test Vehicle 8", to January 20, 2020 it had logged 77 flights/207.46 flying hours.
Air Canada has introduced the A220 to its fleet, so we'll soon be enjoying this great new airliner on Air Canada's North American services.
What a contrast in air transport history, right? (The Electra is C-GZFE, which had begun in 1961 as N138US with Northwest Airlines. There it gave good service into 1971 then flew with operators from Air Florida in the US to Atlantic Airlines in the UK (it had become a freighter in 1977). Finally, in 2013 "GZFE" was acquired by Joe McBryan's legendary Buffalo Airways.
Today it's one of those "lifeline" Arctic freighters delivering groceries and all sorts of other supplies and equipment to the north's many isolated communities and mine sites.

(Reprinted from www.canavbooks.wordpress.com)
---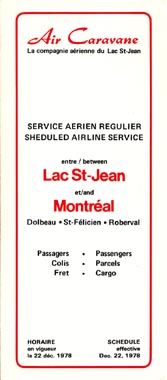 Here we have a timetable issued by Air Caravane effective December 22, 1978 for schedule between Lac St. Jean and Montreal.
(From the collection of David Zekria at timetableimages.com)
---
Cargo Only.
American Airlines will start using is grounded passenger aircraft to fly cargo between the U.S. and Europe.
On March 20, 2020 an American Boeing 777-300 departed Dallas Fort Worth International Airport on its first cargo-only load and landed at Frankfurt Airport on March 21.
This will be the first cargo-only flight for the airline since it retired its last Boeing 747 freighter in 1984
(Source: MRO Digest)