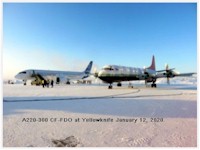 On taxiing in at Yellowknife, "FFDO' parked beside the Buffalo Airways Lockheed Electra whose captain, Tony Jarvis, took this great photo.
The purpose of the testing was to change the A220's certified cold weather operations limit from -35C to -40C. On January 14, 2020 "FFDO" — by then thoroughly cold soaked — made a 49-minute local flight. Ground testing continued until January 18, 2020 when it departed for base at Wichita via Calgary and Kansas City.
A220-300 "FFDO" was manufactured in Montreal in March 2016 as Bombardier CSeries CS300. Designated "Flight Test Vehicle 8", to January 20, 2020 it had logged 77 flights/207.46 flying hours.
Air Canada has introduced the A220 to its fleet, so we'll soon be enjoying this great new airliner on Air Canada's North American services.
What a contrast in air transport history, right? (The Electra is C-GZFE, which had begun in 1961 as N138US with Northwest Airlines. There it gave good service into 1971 then flew with operators from Air Florida in the US to Atlantic Airlines in the UK (it had become a freighter in 1977). Finally, in 2013 "GZFE" was acquired by Joe McBryan's legendary Buffalo Airways.
Today it's one of those "lifeline" Arctic freighters delivering groceries and all sorts of other supplies and equipment to the north's many isolated communities and mine sites.

(Reprinted from www.canavbooks.wordpress.com)