Many interesting light twin engine aircraft were always coming and going at Edmonton.
Typical was the Barkley-Grow, a handful of which came to Canada in 1940, then had a long, useful career.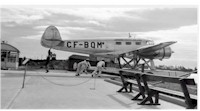 Leslie Corness took many lovely Barkley-Grow photos in black & white and colour at Edmonton, but this view he shot at Vancouver, just as CF-BQM was about to be launched.
Look at all the nifty content in this great action photo. CF-BQM, then with Canadian Pacific Airlines, served many operators beginning with Mackenzie Air Service, one of about ten small northern bush operators acquired by the Canadian Pacific Railway in the early 1940's and merged in 1942 to create Canadian Pacific Airlines.
It ended as a fish hauler with Pete Lazarenko's Winnipeg-based Northland Airlines, flying at as late as 1964.
It resides today with The Hangar Flight Museum (formerly the Aero Space Museum of Calgary).
(Source: via Larry Milberry / CANAV Books)