Found in the "Horizons" magazine, issue dated August 1989.
C & SS consolidates service.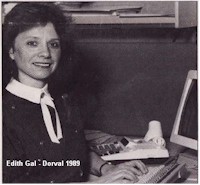 Back in 1987, the C&SS (Computer & System Services) branch, anticipating the 1989 expiration of its leased Toronto facility, decided to consolidate its Toronto and Dorval operations into a single data centre, thereby realizing significant savings in software, manpower and facilities costs.
Photo: Data Processing Clerk Edith Gal at work in her new office.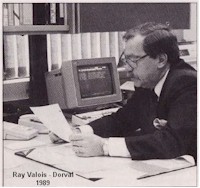 The new 'open concept' offices for managers, such as this one for Ray Valois, Manager, Telecommunications-East at Gemini, are spacious and quiet.
---
Jamaica staff organize product launch.
Our staff in Jamaica recently hosted a product launch for the island's travel agents.
In the photo are (left to right): Franka Hylton, Customer Service Agent; Donet Soares, Senior Customer Service Agent; Joy Schroeter, Customer Service Supervisor; Rilla Stoddart, Senior Customer Service Agent; Leslie Read of Bonanza Tours; Sharon March, Customer Service Agent; Osmond Harry, Manager, Jamaica; Marlene Mayne, Customer Service Agent; Senior Customer Service Agents Laurel Vassall and Sheila Ross and Customer Service Agents Eileen Mahoney and Jerome Davis.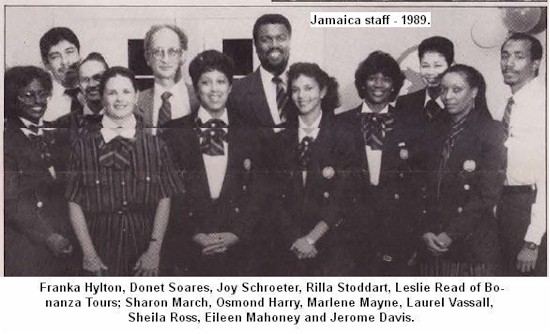 ---
TCA Alumni reunion.
The TCA Alumni held its 18th annual reunion and "beach bash" from November 14 to 17, 1989 at the Breckenridge Hotel in St. Petersburg, Florida.
Highlights of the four-day gathering included a welcome reception, a breakfast with fashion show and a farewell dinner.
---
CGTAS reunion.
All retirees now on Air Canada pension who worked on the Canadian Government Trans-Atlantic Air Service (CGTAS) Lancastrians between 1943 and May 1947 (when the CGTAS became TCA Atlantic Ltd.) were invited to attend a reunion/dinner on October 11, 1989 at the Toronto Airport Constellation Hotel. Spouses were also welcomed.
(Does anyone have any information to share for this reunion - eds)
---
Ninety-five year celebration in YOW.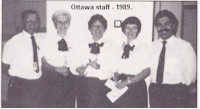 Five Ottawa employees celebrated service anniversaries and joined together for a photographic souvenir of the event.
They are (from left to right): Customer Sales & Service Agents Norm Bougie (20 years); Laurie Demeule (20 years), Linda Downes (20 years), Sharon Vaillant (20 years) and passenger Service Supervisor, Ron Vincelli (15 years).
---
Issue dated September 1989.
"Silver Bullet" bites the dust.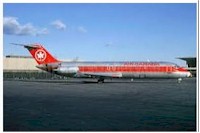 An Eastern Airlines DC-9, fondly (?) known as the "Silver Bullet", was removed from service on August 14, three months ahead of schedule.
DC-9-31 C-FBKT fin #754 was delivered to Eastern Airlines March 20, 1968 and was leased to Air Canada on May 31, 1988. It was returned to Eastern Airlines and re-registered as N8950E on August 14, 1989.
During its 18 months with Air Canada, the "Silver Bullet" was plagued with technical and mechanical snags. But, despite the performance improvements made by our maintenance crews, the aircraft's on-board galley equipment made it impossible for In-Flight Service to provide the level of service customers have come to expect.
This led to the decision to remove the aircraft from service. The aircraft was leased to Northwest Airlines by Eastern Airlines and the aircraft was damaged beyond repair on November 19, 2006 at Minneapolis (MSP) when hit by a tug vehicle while towing.
For more info, see Wayne's Wings article from NetLetter #1354.
---
Issue dated February 1990.
First for Bombay.
The first-ever General Sales Agent training course in Bombay took place.
Attending the course were (back row, left to right): R. Pinkerton, K. Prema, L. Lee, A. Malhtora, Z. Shah, S. Shukla, M. Mathur, A. Gandhi, S. Prabhakar and B.P. Dastoor.
Seated left to right are: C. Bornshin, A. Pinto, F. Shettlesworth, S. Mehra and P. Shukla.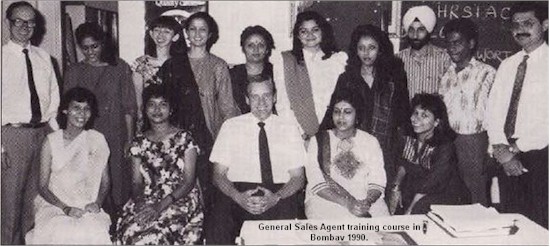 ---
First flight for winners.
Customer Care winners and their guests joined Pierre Jeanniot (far left) and Leo Desrochers (far right) on the tarmac in Toulouse shortly after the official ceremony to mark the delivery of Air Canada's first A320.
Our new aircraft was specially equipped with earmuffs and scarf - in anticipation of its first winter in Canada, and the winners joined in the fun by also donning earmuffs and scarves for the occasion.
The next day the group travelled on Fin 201's ferry flight to Montreal. From left to right are: Joslyn DiSilva, Melissa Hancock, Bob Haynes, Peter Peschke (Manager, Sales Development, International ), Barbara Haynes, Jim Trottier, Sylvie Lapointe, Moira and Pierre Juillet, Debbie Dawson, Dave Witter, Ursula Huwyler, Martine Ricard, Fred Huwyler, Jean Ricard, Jan and Dave Anderson, Ken and Ann Dennis, Michael King, Diane and Michael Kelly.
Missing from the photo are: Norm Dawson and Donna Witter.
Editor's note: This A320 (C-FDQQ, fin 201) is the 59th A320 built and is still with AC today and has passed 30 years of service. It is among the five oldest A320's still flying.