A380 cold weather trials at Iqaluit (YFB) February 2006.
(Source: blog by Larry Milberry, www.canavbooks.wordpress.com)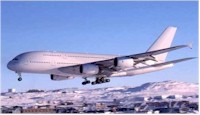 Early in 2006 John Graham, the airport manager at Iqaluit, gave me a heads-up that an A380 was coming to town for cold weather trials. This sounded like a great opportunity, so I organized a trip north from Ottawa on a First Air 737 for February 3, 2006.
The A380 was due on February 6, 2006, so I had time to cover some other aviation. On February 4, 2006, for example, I went over to Resolute Bay and back on a First Air 748. Next day I spent around town and the airport, then February 6, 2006 dawned as a fine, clear day.
John gave me the A380's ETA, so I had time to set up at the arrival end of the runway. Here's one of the shots I took as the mighty A380 (call sign "AIB501") was about to touch down. This was the first ever A380 landing in "The New World".