Passing the time on YouTube
You've heard this before; I spend way too much time on the internet, particularly, YouTube.
However, in this time of self-isolation, at least I don't feel quite as guilty about it.
In my article for NetLetter #1408 about some very entertaining YouTube channels dedicated to aviation, I featured Alex Praglowski's excellent channel which has grown very nicely over the past few years.
Alex reports on his in-flight experiences with wonderful enjoyment.
Following are a few more of my favourite time passers that I recommend you check out.
---
Located in Vancouver, this channel is co-founded by Henry Tenby who has been producing high quality aviation videos for several years. Henry is now sharing much of his work via this channel. He has a strong appreciation of history and narrates his videos with enthusiasm
Also, you may wish to visit: JetFlix.tv or HenryTenby.com
---
See video link below of a rare landing of Vietnam Airlines at YVR.
Also located in Vancouver, this channel features videos from YVR (my second home for most of my career). I really enjoy seeing the familiar surroundings from YVR's numerous vantage points and this channel provides great camera work, capturing the beauty of Richmond B.C.'s 'Sea Island'.
Here is my article on YVR in NetLetter #1404.
---
Located in Montreal, we have linked to a few of Mark Brandon's videos in past issues.
---
Located in the U.K, this is a very insightful channel with videos from the SimpleFlying.com website.
You can also sign up for a daily newsletter with airline news from around the world.
---
Located in the United States, this channel features some fantastic cockpit views from a variety of airlines all over the world. They often feature female pilots and the flight crews always seem to be really enjoying the interaction with the film crew.
---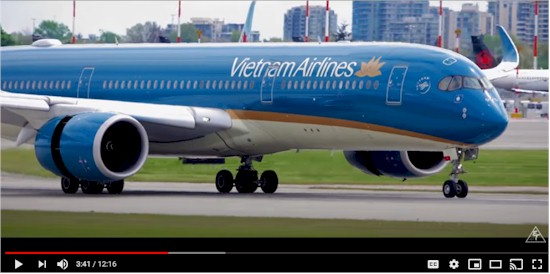 Vietnam Airlines Airbus A350 landing in YVR -
click to view YouTube video from eye trapper
Additional info from Ken Pickford:
The Vietnam Airlines A350 stop at YVR on April 30 was a fuel stop on the return trip of a repatriation flight from Hanoi to Toronto, carrying Canadians stranded in Vietnam on the outbound trip due to COVID-19 and suspension of most air service, and carrying Vietnamese stranded in Canada on the return trip.
It operated nonstop Hanoi-Toronto with the YVR fuel stop on the return trip. A second repatriation flight to YVR is operating on Friday, May 8.
Additional details available from:
---
There are many, many more. These are just a few of my favourite subscriptions and sources for article material.
If you already have a Google account (Gmail address) then subscribing is easy; just click the 'Subscribe' button and, if you wish to receive new videos notifications, click on the bell.
While we do our civic duty and follow the advice of health care professionals, why not make this time constructive and enjoyable.
Please take care, stay safe and, once again, thank you for spending some of your time with us.