Central Airlines.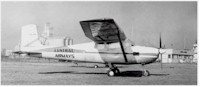 In late 1955 the Cessna 170 was replaced by the Cessna 172, a design that brought a whole new look to the Cessna line.
Gone were Cessna's classic curved "tail feathers" and "tail dragger"' look. As you can see in this view, Cessna switched to a new squared-off look, plus tricycle gear with steerable nose wheel. The new plane came on the market at $8,750.
The Wong brothers of Central Airways were quick to recognize where things in their world of aviation were heading, so immediately ordered one of the first 172's — CF-IKB. Current owner, Jim Bray, notes, "CF-IKB came off the line at Cessna on October 28, 1955 and left for Canada on November 3, 1955". Al's view includes the Central Airways office. He probably set this up deliberately. In 1956 I was in Air Cadets in Toronto at 172 Squadron. My first ever airplane flight was in "CF-IKB".
Today, Jim, who has owned it for 35 years, keeps "CF-IKB' at Brantford, Ontario. In 2020 its airframe time is a bit less than 6000 hours. The initial production batch of 172's totaled 1,178. Since then more than 45,000 have been delivered.
(Source: via Larry Milberry from the collection of Al Martin www.canavbooks.wordpress.com)