Prime Minister's North Pacific charter.
Prime Minister Brian Mulroney's visit to Hong Kong and Japan on a chartered Canadian Airlines B-767 began with a historic achievement for this company. The flight was under the command of Captains Mac Jones and Terry Lambourne with first officer Don Garke.
It was the world's first commercial B767 non-stop flight across the North Pacific. The 6,592 statute mile Vancouver-Hong Kong trip on May 21, 1991 took 13 hours.
The 11-day trip was scheduled to fly Ottawa-Vancouver-Hong Kong-Tokyo-Osaka-Tokyo-Ottawa, carrying 50 passengers, including the Prime Minister and his wife Mila, his staff and media.
In recognition of exceptional operational and In-flight service, the Prime Minister extended to all the Canadian personnel accompanying the flight to attend the Official reception and opening of Place Canada Embassy in Tokyo.
Attending were business and government leaders of Japan and Canada, including Their Imperial Highnesses Prince and Princess Takamado, Prime Minister Kaifu of Japan and his wife and the Prime Minister and Mrs. Mulroney.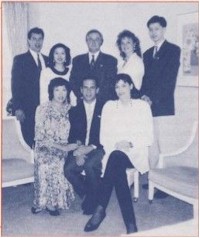 Also attending were our flight crew:

Standing from the left: George Stonier, Doris Loo, Tony Wade-Cooper, Jo-Ann Chanin and William Lee.
Seated from left: Pat Clever, Magdl Erian, and Marie Larus.