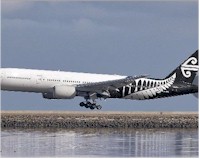 Name this airline – answer below.
---
Larry Harris sends this -
Here's a question for your readers:

Do you remember the name of Pacific Western's first computer reservation system?
---
Neil Burton has sent us of a scan of "The Story of Queen Charlotte Airlines Limited".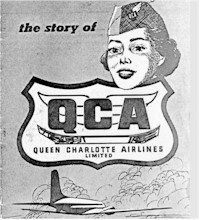 He mentions that he does not recall how he came about the photocopies and from where. QCA was purchased by P.W.A. in 1955.
Click the image to view the full document.
---
Airbus A310 retirement
Almost 38 years to the day after its first flight, the Airbus A310 took a big step towards oblivion as a passenger airliner on March 30, 2020 when Air Transat retired its final aircraft from service.
With the retirement over recent months of Air Transat's final four A310-300's, the total number of the wide body twin-jets in active passenger service has dwindled to just seven aircraft. According to Cirium fleets data, five with Mahan Air of Iran, and one each with Ariana Airlines and Yemenia.
Air Transat was the last major A310 operator, introducing the type in 2000 to replace its Lockheed TriStars.
Sourcing aircraft from the second-hand market, its fleet steadily increased to peak at 13-14 aircraft during 2008-2009.
With A321LR's joining the fleet to replace its A310s, the airline confirmed in 2019 plans to retire the type the following year. By late March, Air Transat had two A310's remaining and the type's last flight was operated on March 30, 2020 a repatriation flight from Portugal to Toronto, via Halifax.
(Source:flightglobal.com Note: Registration required to view archive)
---
Aerion Supersonic has picked Melbourne, Florida, as the site for its manufacturing plant and ancillary industries for the production of the AS2 supersonic business jet.
At a news conference in late April, the company and Florida Governor Ron DeSantis said the $300 million Aerion Park will begin construction this year and be finished by 2026.
Manufacturing of the Mach 1.8 aircraft is slated to begin by 2023.
(Source: avweb.com May 4, 2020)