A scam to watch out for.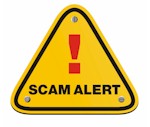 Reports have surfaced of cruisers being targeted by email with messages purporting to be from cruise lines. These emails ask travelers for credit card numbers, promising it's the best way to process refunds or Future Cruise Credits (FCC's).
Other cruisers have said they've been contacted by phone, "confirming" a refund and offering a follow-up email that will require bank account information.
Both methods are bogus, designed to prey on cruisers who are awaiting legitimate refunds or FCC's for cruises canceled because of the pandemic.
(Source: cruisecritic.com, May 1, 2020