This memory was posted to Facebook by Marc Gagnon of Nordair January 2, 2013.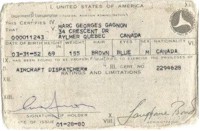 Funny story goes with this license. Nordair was one of the only Canadian airlines requiring their dispatchers to have an FAA certification. This required a 6 hour written exam followed by another 6 hour oral exam in Pittsburgh International Airport (PIT).
The day of my oral exam coincided with the freeing of the 6 American hostages from Tehran.
The news broke during the lunch break, so the afternoon of the exam was spent in a bar with a dozen FAA inspectors shoving beer down my throat and I was driven to the ramp in an FAA vehicle and poured into the cockpit for the flight back to Montreal (YUL).
Needless, to say, I passed the exam with flying colours.
(Source: www.facebook.com)