Neil Burton contributed this article -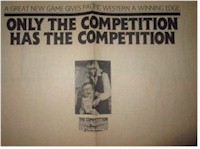 Pacific Western Airlines Sweepstakes – Promotion valid from November 15, 1982 – May 15, 1983.
(The promotional sheet shown in the photos had no year in it but was finally matched to an article, in which a photo of Lorne Perrin, Customer Service Manager, Kamloops, is seen scratching a boarding pass – Kamloops Daily Sentinel – Nov. 9, 1982, Tuesday – page. 13.)
The airline was wanting to win customers away from the competitors. There were 14 major prizes offered:
Seven trips to Las Vegas, included airfare, accommodation, and $1,000 spending money, or 7 books of Quick Tickets, good for 10 one-way or 5 return trips to anywhere on P.W.A.'s scheduled route system.
Total value of the scratch and match instant win and sweepstakes game was said to be over $1 million.
Passengers were given a combination boarding pass/playing card before boarding their flights.
The idea was to match the image on one side of the card to see what they might win. Then, scratch one square on the right side of card to try to match image.
Besides 14 major prizes, P.W.A. was offering hundreds of instant prizes. There were weekends for 2 at selected Westin Hotels, Budget Rent-a-Car rentals, cash, Boeing 737 model kits and inflight vouchers.
The program was said to be brought about because of the decline in air traffic.
Las Vegas was one of the destinations offered through P.W.A.'s charter operations.
Neil Burton, May 18, 2020.