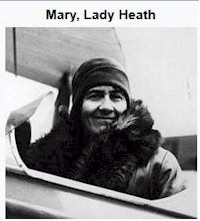 Lady Heath became the first woman to hold a commercial flying licence in Britain and along the way, set records for altitude in a small plane and later a Short seaplane, was the first woman to parachute from an aeroplane (landing in the middle of a football match).
February – May 1928.
Mary, Lady Heath an Irish woman, becomes the first aviatrix to fly from Cape Town, South Africa to Croydon Aerodrome in London.
After her great flight from the Cape, she took a mechanic's qualification in the US, the first woman to do so.
(Source: en.wikipedia.org/wiki/Mary,_Lady_Heath)