Found in the "Horizons" magazine
1993 - Polynesian Airlines of Samoa signs a two-year contract to lease Air Canada's B-767-300.
---
Issue dated December 1990.
Ottawa joins courier network.
Ottawa has officially become part of the courier network, operating a regularly scheduled Kelowna Flightcraft all-cargo Convair 580 that will carry Purolator, Same Day and Priority Post mail traffic and will be jointly handled by Aircraft Services and Cargo personnel.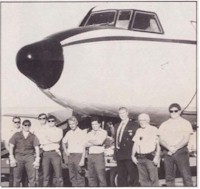 Shown in photo from left to right are: Station Attendants Mike Brisebois, Pierre Turgeon, Raymond Therien, Luc St. Amand, Denis Chartrand and Yvon Legault; Cargo Service Supervisor Tony Dewan; Station Attendant Frank Van Den Weghe and part-time Station Attendant Andy Dintinger.
---
Hello from Quebec.
Our colleagues in Quebec City were very happy about the arrival of the first B-767 of the 1990-91 winter schedule to Fort Lauderdale.
Seen here from left to right are: Mario Belleau, Michel Deschesne, Sylvain Dufour, Denis Moisan, Pierre Rochette, Jean-Frangois Savard, Marcel Bédard, Line Robinson, Richard Poliquin, Michel Tétreault and Thierry Raynard.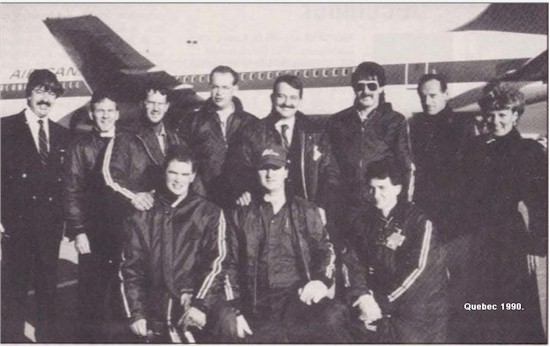 ---
Issue February 1991.
Farewell to Madrid and Lisbon.
With the recent suspension of services to Madrid and Lisbon, dinners were held in these two stations to thank staff for their efforts during two years of operations.
A special commendation went to each individual for the spirit of care they displayed especially during the difficult time of downsizing the stations.
The photo shows the Madrid Sales, Reservations and Airport Personnel.
They are from left to right: Antoine Mousa, Miguel Angel Martin, Rocio Sandovall, Juan Manuel Borja, Hans Schuett, Ma Cristina Fernandez, Carlos Lopez, Director Gral Euroair, Peter de Sisto, Manager. Spain and Portugal; Graham Edwards, Regional Manager Administration, Europe & Asia; Mar Rusz, Miguel Angel Ayuso, Isobel Mateo and Jose Diez.

---
And in the Lisbon photo are the Sales, Reservations and Airport Personnel.
Left to right (seated): Gracinda Bastos, Mize Nero, Cecilia Alves, Henriqueta Rodrigues and Margarita Gil.
Left to right (standing): Jose Almeida, Evelio Arnorin, Eurico Morass, Ana Maria Cabrita, Ernesto Alves, Peter de Sisto
and Joao Oliveira.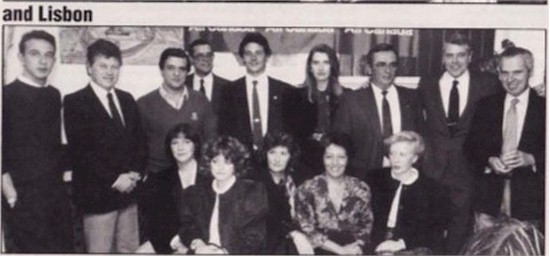 ---
Issue dated March 1991.
Maple Wings AGM.
The Canadian Maple Wings, an association of former TCA stewardesses and present day Air Canada flight attendants, held their AGM and mini-reunion in Vancouver on April 19 and 20, 1991.
They organized a full schedule, starting with a get-together Friday at the Hyatt Regency.
An early start was made for Saturday with a full breakfast before the AGM and the afternoon left free for shopping and sightseeing. Casual dress was the order of the day for the evening sit-down dinner cruise aboard the "Britannia". Special rates had been negotiated with the Hyatt.
---

Found in the "Between Ourselves" magazine issue September 1948.
A change in our tariff regulations now makes it possible for children over five years and under twelve to travel the length of TCA's system, Domestic and Atlantic, without an adult companion.
The only condition is that the child be accompanied to the departing airport by a parent or responsible adult and met upon arrival by similar persons.
Consequently, TCA has introduced something new in airline service, and becomes the first North American carrier to do so.
A seasoned traveller at five is blonde, bright-eyed Diane Ford, shown here as she completed a 6000 mile journey with TCA from London, England, to Vancouver.
Diane travelled unaccompanied to live with her foster parents, Mr. and Mrs. Kingshott (left), in the coast city.
Stewardess Emily Doree brought her over the last leg of the journey.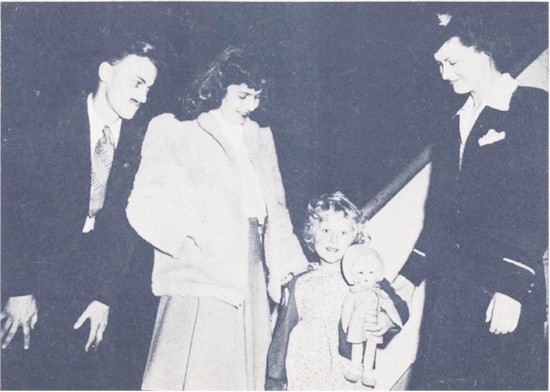 Reliving history... 45 years later.
(From "Horizons" magazine issue September 1993)
When five-year old Diane Ford stepped off a Trans-Canada Air Lines plane at Vancouver Airport on July 26, 1948, photographers scrambled to take her picture.
Billed by the airline as "the first child in the world to fly the Atlantic unescorted", Diane got the VIP treatment from TCA.
Photographers had tracked her progress across the Atlantic from England to Gander, Newfoundland through Montreal and Toronto to Vancouver— a journey which took a total of three days.
Diane Ford Thompson recently flew back to England aboard Air Canada for the first time in 45 years. The trip was her 50th birthday present from her children.
Captain Stan Kruger (left) made Diane's trip a little more memorable by inviting her to visit the flight deck before take-off.