The world's largest passenger plane just completed a 4-day trip around the world trip delivering medical supplies.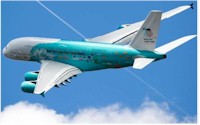 The Airbus A380 operated by Portuguese charter airline, Hi Fly, has returned to service to assist in humanitarian efforts related to COVID-19, flying an around-the-world trip earlier in May, 2020.
Hi Fly operates the only second-hand A380 which it uses for recovery, repatriation, and medical supply flights under its wet-lease and charter purview.
The world's largest passenger jet, the A380 in Hi Fly's configuration seats nearly 500 passengers with amenities and features held over from its former owner, Singapore Airlines.
(Source: MSN.com May 22, 2020)