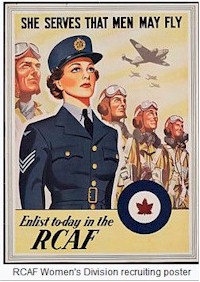 At the beginning of World War II, Canadian women began pressing for the right to be allowed to join the war effort.
This, along with manpower shortages, led to the air force conceding that women could help the war effort by taking over many men's duties with the aim of freeing up men for work that was directly related to combat.
The Royal Air Force suggested that the RCAF form its own women's unit much like the RAF Women's Auxiliary Air Force. In June 1941, the government formally decided to allow the enlistment of women in the armed services.
The 1941 order-in-council authorized the formation of a component of the Royal Canadian Air Force to be known as the Canadian Women's Auxiliary Air Force, its function being to release to heavier duties those members of the RCAF employed in administrative, clerical and other comparable types of service.
They were disbanded in December 1946.
(Source:
en.wikipedia.org/wiki/Royal_Canadian_Air_Force_Women's_Division)