1992
March 16 - Inaugural Boeing 747-400 flight to Los Angeles from Toronto.
May 17 - B-747-400 service introduced Toronto-Frankfurt.

Found in the "Horizons" magazine.
Issue dated December 1990.

Briefcase gets the message across.
We've come up with a big, bold and very apropos way to promote our Executive Class service - a giant billboard designed to look like a briefcase.
Located at Montreal's Décarie Circle, the 240-tonne billboard was hard for the thousands of motorists on the busy highway to miss.
"We wanted to come up with something that would grab the attention of business travellers," said Sharon Core, Manager, Advertising - Business Canada. 'We estimate that about 302,000 drivers will view it every day."

The giant briefcase, measuring 59 feet wide and 25 feet high, is perched atop a two-tonne cement base, with its summit reaching the level of an eight storey building. The metallic baggage tag attached to the handle weighs two tonnes and was illuminated by some 40 neon tubes, while the Air Canada logo measured eight feet in diameter.
A huge newspaper with two inch typeface and a pen two feet in diameter add to the realistic appearance. There was also an electronic message centre that displayed information on various Air Canada products and services.
This information was delivered more rapidly during rush hour, when traffic now is often congested.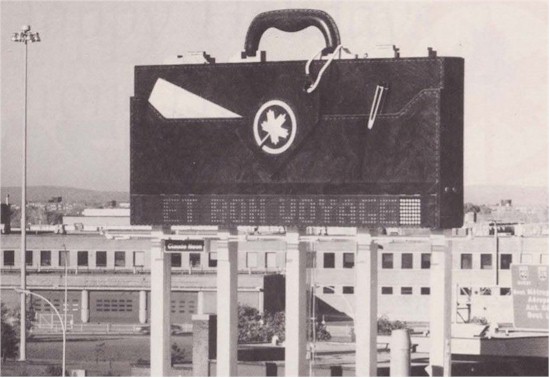 ---
Issue dated June 1991.
50 years of service to New York.
Back on May 10, 1941, Trans-Canada Air Lines inaugurated service to New York with two daily flights between Toronto and LaGuardia Airport.
Over the past 50 years, New York has grown to be an important destination in our system. In 1991 we offered 20 daily flights from the New York metropolitan airport to Toronto and Montreal and carried more than 750,000 passengers every year between these cities.
In the photo, Claude Taylor, Chairman, President and Chief Executive Officer and John Ring, Manager, LaGuardia (right) stand with Georgina Ingram Jackson, a former stewardess who worked on our first flight to New York. In the background are our oldest and newest aircraft, a Lockheed L10A and an Airbus A320.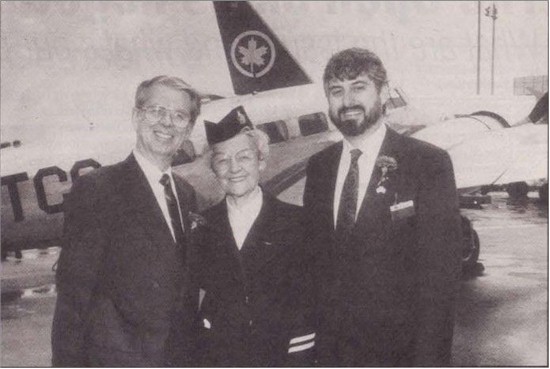 ---
Bermuda staff breathes life into CPR classes.
Bermuda Senior Customer Service Agent Veronica De Silva and the Bermuda Civil Air Terminal Health & Safety Committee initiated a program of CPR courses to be offered to all Air Canada and airport employees. In early 1991, 51 people from Bermuda Airport have been certified in CPR, including 12 Air Canada employees.
Pictured here are Air Canada and British Airways staff who had passed the course with flying colours:
Kneeling, left to right: Customer Service Agents Floyd Smart and Janet De Silva; one BA staff member and Veronica De Silva, Senior Customer Service Agent and CPR Instructor.
Middle row, left to right: Two BA staff members; Polly Peters, Customer Service Agent; Ms. Rususci Annie, Demo mannequin; Customer Service Agents Lynette Harris, Eric De Silva and Carol Ann Ramsay and Geoff Yeomans, CPR Instructor.
Back row, left to right: three BA staff members; Ronnie Tuckett, CPR Instructor and Felecia Pike, Customer Service Agent.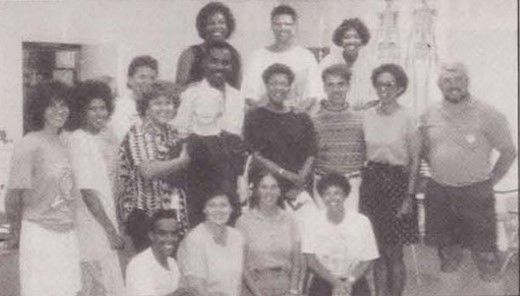 ---
Issue dated July 1991.
LHR's newest office is in the bag.
Our Heathrow (LHR) baggage office moved to a new land-side location in Terminal 3 where it will be accessible to passengers. What marked this move - the fifth in 25 years - different, is that the office was designed by Air Canada's own baggage staff. With a tight budget and time frame, the staff also helped out with the decoration, carpet laying and furniture moving.
"A big thank you is due to this team of employees," said Peter Baldry, Manager Airport Services, UK & Ireland. "Air Canada's Heathrow customer care program has demonstrably improved with this new facility and all at a lower cost than staying air-side in the previous premises."
The new office opening was celebrated with a suitcase-shaped cake, displayed here by, left to right: Jack Morath, Baggage Services Supervisor; Tony Coleman, Aircraft Services Manager; Tony Keeler, Baggage Agent; Jim Watson, Baggage Agent; Peter Baldry and Baggage Agents Tony Wardlaw, Barry Bryant and Laurie Sandford.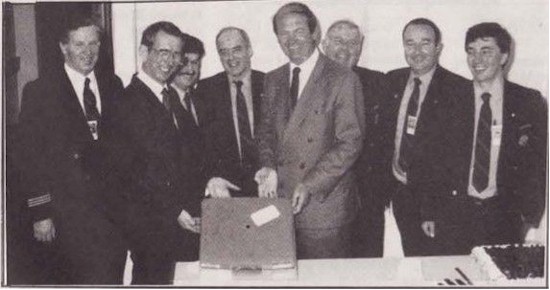 ---
Issue dated August 1991.
Some 550 Pionairs gathered in San Francisco for their 14th Annual General Meeting.
A few members of the Pionairs Executive who took time out from the meeting to pose for the camera are:
Standing, from left to right: Bill McNutt, Treasurer; Lorne McDermot, Second Vice President and John Innes, President.
Seated, left to right are: Kay Napolitano, First Vice President and Laura Innes, Secretary.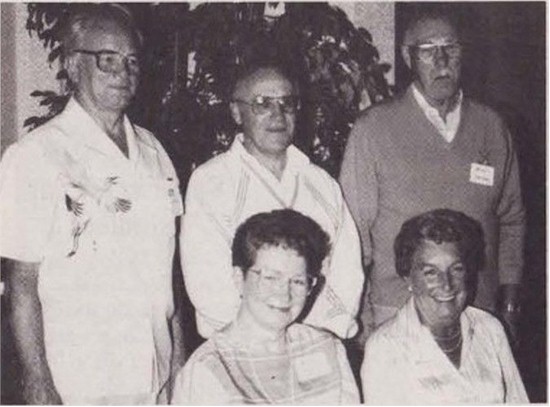 National Pionairs Executive 1991.
President - John Innes
Immediate Past President - Leo McIntyre
First V.P. - Kay Napolitano
Second V.P. - Lorne McDermot
Treasurer - Bill McNutt
Secretary - Laura Innes
Pension Rep - George Clifford
Air Canada Liaison - Normand Cadieux
Pension Estate Office - Bernice Paul
Pionairs District Directors:
Frank Takasaki, Donella Robertson, Ken Morrison, John Kiern, Stephanie Mandzie, Chuck Taylor, Lloyd Wedge, Maureen Swiednicki, Peter McCarthy and Ralph Goodmurphy.
The Executive underwent several changes soon after the AGM.
Lorne McDermot, Second Vice President has resigned due to illness and has been replaced by Leo Goulet.
Donella Robertson has resigned her position as District Director. Her replacement was Wilse Jessee.
Doug Lovat, Director. Pensions & Employee Benefits has been appointed the new representative for the Pionairs.
1992 Annual General Meeting was held May 28-31 in San Francisco.
Lapel pins sporting the new Pionairs logo were available through District Directors and were also distributed. The Pionairs continue to grow and now boast a membership of 4,575 as of 1992.
Any retirees interested in becoming members can go to the Pionairs website at www.pionairs.ca and click on "Join Pionairs" icon and take part in the "2020 Membership Drive".
---
Issue dated January 1992.
AC agent crowned Miss Heathrow (LHR).
Congratulations to Julie Wilmott, Customer Sales & Service Agent, London, who was recently crowned 'Miss Heathrow Airport 1992'.
Julie competed against 23 other uniformed Heathrow ground staff representing airlines, hotels, handling agents, Heathrow shops and Customs. All of the contestants' jobs bring them into contact with the travelling public and they were judged on their appearance, personality and ability to act as an ambassador for their own company and Heathrow Airport.
Julie, who joined Air Canada in 1989, worked in the London city sales office before moving to Heathrow in April 1991. In her capacity as Miss Heathrow, Julie was to open charity events and attend local celebrations on behalf of the airport.
In this photo, Julie's proud colleagues help her celebrate her win. Getting into the spirit are, back row, left to right:
Bob Lynch, Airport Passenger Service Manager, London and Peter Baldry, Manager, Airport Service, U.K. and Ireland.
Front row, left to right: Customer Sales & Service Agents Karen Tant, Rula Stavrinou, Tom Doggett, Julie Wilmott, Geraldine Jolly, Rebecca Waddington, Andrew Gardner, Joanna McAinsh and John Mitchell, Station Attendant.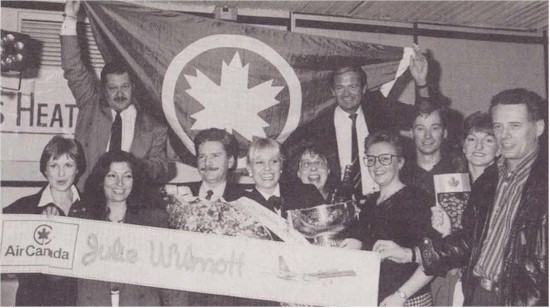 ---
Issue dated February 1992.
Air Canada granted designation to Berlin.
The Governments of Canada and Germany have expanded their air transport agreement to enable Canadian carriers to serve Berlin, the new German capital, and Lufthansa to serve Ottawa.
As a result, AC plans to begin service between Toronto and Berlin's Schoenefeld Airport this summer (1992), in addition to the existing flights to Frankfurt and Dusseldorf.
---
Also in 1992, Air Canada introduced service to La Grande, Quebec, its first new domestic destination in 16 years.
The airline operated weekday DC-9 service, with a Saturday flight added in April for the peak summer construction period. La Grande is located in northern Quebec and is the key airport for James Bay construction projects.
---
A320 a hit in Bermuda.
Air Canada's A320 has some new fans after its inaugural flight to Bermuda.
The airline is the first carrier to fly the A320 into Bermuda and the news media were out in full force to cover the special event.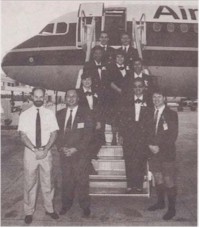 Ian Davis, Manager, Bermuda was also on hand for the event and admitted, "It was amazing to see the reaction of our staff to this brand new aircraft. You could see that they were (and still are) very proud of the fact that we have begun flying A320s into Bermuda."

Celebrating this special event were, left to right: Gary Parker, Route Contribution Manager, Caribbean; Marc Rosenberg, General Manager, Passenger Sales US & South; Customer Service Agents Janet De Silva, Lynette Harris, Eric De Silva, Polly Peters, David Lambert, Felicia Pike, Carol Ramsay and Ian Davis.
---
Introducing the B747-400.
On the wing of the simulator, at the new In-Flight Training Center in Dorval, we see the training instructors.
From left to right, standing: Flight Attendants Alain Grenier, YYZ; Ron Allain, YHZ; Mark Adams, Purser, YYZ; Flight Attendants Arlene Murphy, YYZ; Michel Casavant, YUL; Chantal Viau, YYZ; Mark Olivier, YUL; Bonnie Simpson, Purser, YVR; Flight Attendants Ravi Zilka, YYC and Carol O'Connell, YYZ.
In the front row, from left to right: Christian Aveline, Training Supervisor, Dorval; Paul Bouchard, Supervisor, B-747-400 Program, Dorval; Flight Attendants Christiane Mineau, YUL; Jacques Johnson, YWG and Linda Valiquette, YUL.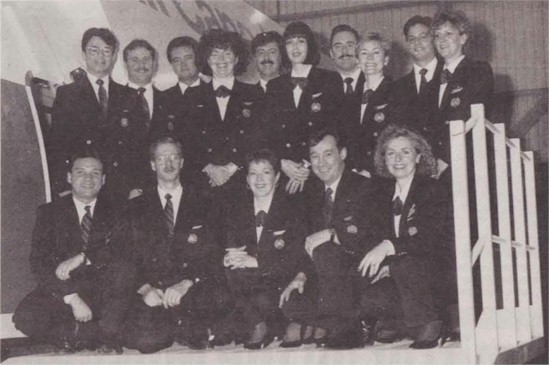 ---
TCA Alumni Reunion.
The 20th annual reunion of the TCA Alumni was held from November 12-15, 1991 at the Breckenridge Resort Hotel in St. Petersburg Beach, Florida.
---
Issue dated March 1992.
Maple Wings AGM.
The Canadian Maple Wings, an association of former and current TCA/Air Canada Flight Attendants held their 12th Annual General Meeting April 24-25, 1992 at the King Street Holiday Inn in Toronto.