Answer for the mystery airline in Odds and Ends.
Breeze Airways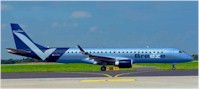 is a planned U.S. airline that is due to begin operations in 2021.
The start-up passenger carrier headed by serial aviation entrepreneur David Neeleman, who previously co-founded JetBlue Airways among other airlines, has applied to acquire the certificate of now-defunct Compass Airlines, and published plans for its first year of operation.
Source: flightglobal.com