The Orbis Flying Eye Hospital
A short time ago, I noticed that an episode of 'Mighty Planes' on Canada's Discovery channel (season 1, episode 4) was featuring 'The Orbis Flying Eye Hospital'.
Orbis International is an international non-profit non-governmental organization that has been operating various aircraft as 'Flying Eye Hospitals' since 1982.
The first of these aircraft was a DC-8-11 donated by United Airlines in 1980 and re-registered at N220RB for its special mission to begin in 1982. The aircraft was withdrawn from service in April 1994 and is now preserved at Datangshan Aviation Museum in Beijing (pictured below).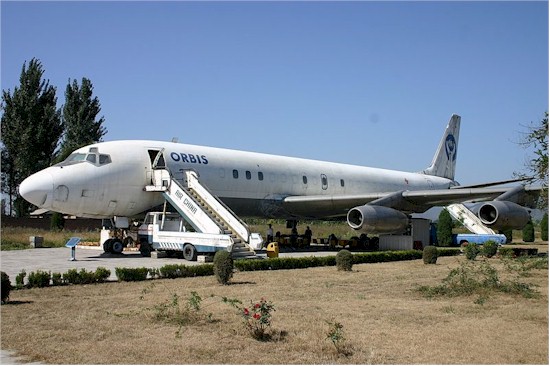 The next aircraft was a DC-10 purchased in 1992 (funded by private donations). After two years of renovations, it was re-registered as N220AU. This is the aircraft featured in the 'Mighty Planes' episode. At the time is was flying for Orbis, it was the oldest DC-10 still in service in the world. I am not sure when it was withdrawn from service but it has been preserved at the Pima Air & Space museum at Tucson, Arizona since 2016.
Planespotters.net lists two other aircraft (N323FE & N810AX) as having flown for Orbis but I cannot find any images of them in Orbis livery and both have been scrapped.
The current aircraft (pictured in this issue's header) is the most advanced and best equipped of the series. It is a 47 year old MD-10-30F (converted DC-10) donated by FedEx in 2016. It can fly twice as long as its predecessors and has a 46 seat classroom and is the closest to being like a land based hospital.

for a virtual tour of of this amazing aircraft. Be sure to click on the blue arrows for details about each section.

click the icon for a YouTube video posted by 'Toronto Pearson International Spotter' for a tour of the aircraft on a visit to Toronto.
Additional reference: en.wikipedia.org/wiki/Orbis_International