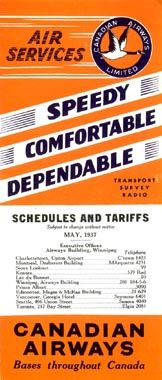 Here we have a timetable for Canadian Airways issued May 1933.
From the collection of Bjorn Larsson @
www.timetableimages.com/ttimages
---

Gary Macdonald posted this photo on Facebook on May 24, 2020.
Nordair DC-8 at Shannon, Ireland (SNN) on May 7, 1977.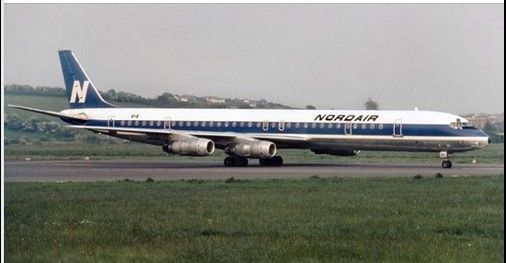 ---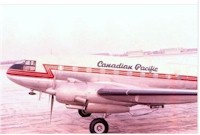 Art Rijkse found this photo on Instagram and posted it on Faceook on April 28, 2020.
Editor's note from Ken Pickford:
This aircraft is a Curtiss C-46 at Edmonton Municipal Airport (YXD), closed for redevelopment in 2013. CPA acquired 8 used C-46's in 1955.
They were used on CP's scheduled passenger and cargo routes from Edmonton to northern Alberta and the Northwest Territories and to transport supplies during construction of the DEW Line radar warning sites in the Arctic in the mid-1950's.
CPA sold the northern routes to Pacific Western Airlines in 1959, including at least a couple of the C-46's.
---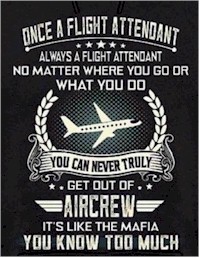 On April 27, 2020, Liz Moscaret shared this post on Facebook
---
Found in the PWA "Flightlines" magazine issue August 1986.

Eleven people from Pacific Western joined hundreds of visitors at Kamloops' new jet airport on Saturday, August 2, 1986.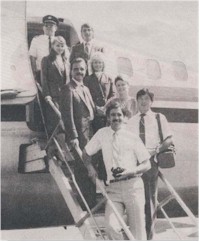 Pictured at left from top (left to right): Captain Dave Geekie; Flight Attendants Deborah Whelan, Brian Binkley, Kathi Parsonage; Greg Wittig, Purser; Arlene Craig, Supervisor, Promotions; Ken Hinatsu, Manager Product Development, Western Region; Brad Potentier, Charter Service Representative.
Missing from the photo are F/O Ron Muller; Cliff Beck, Flight Technical Analyst; and Marilynn Knoch, who took the photos.