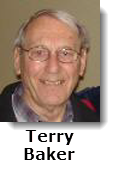 Terry Baker, co-founder of the NetLetter scours the internet for aviation related Trivia and Travel Tips for you, our readers, to peruse.
Answer for the mystery airline in Odds and Ends.
One of the "big three" airlines in China, Air China is the flag carrier with its head office in Beijing.
It was established in 1988 when the Chinese government decided to split CAAC Airlines into six separate airlines.
Reference: en.wikipedia.org/wiki/Air_China
---
When you need to check a bag for your upcoming flight, our TouchFree Bag Check and TouchFree Bag Drop are here to make travel life a little easier and comfortable.
Experience it at major Canadian airports during your next adventure.
Source: AC Daily August 6, 2020

View the demonstration video