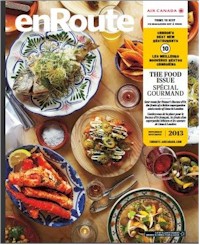 Here is the cover of the enRoute magazine issued November 2013.
Ottawa literary scene stacks up.
(Source: issuu.com)
---

From the "Horizons" magazine
Issue dated May 1994.
A Seoulful First
Air Canada's first transpacific flight winged its way to Seoul, Korea on May 16, 1994, inaugurating the three-time weekly service aboard B-747-400 combi aircraft.
"In preparing to launch our new service to Korea, we have taken unprecedented measures to ensure that Asian passengers will feel at home aboard Air Canada," said Douglas Port, Vice President, Passenger Marketing and Sales.
"We have worked hard to tailor our service to meet the requirements and expectations of our passengers in this market."
---
Issue dated June 1994.
Fond Farewells
The Canadian Air Line Pilots Association (CALPA) rolled out the red carpet for the last DC-8 freighter by holding a farewell party at Toronto's B-747 hangar. Employees paid their respects and traded DC-8 tall tales.
Captain Ross Emmans and his crew had the distinction of operating Air Canada's last DC-8 freighter flight across the Atlantic. They flew from Zurich to Prestwick and then on to Toronto.
This was also the airline's last scheduled flight through Prestwick after about 50 years of operation. Captain Emmans was presented with a Scottish memento, a tartan 'tammy'.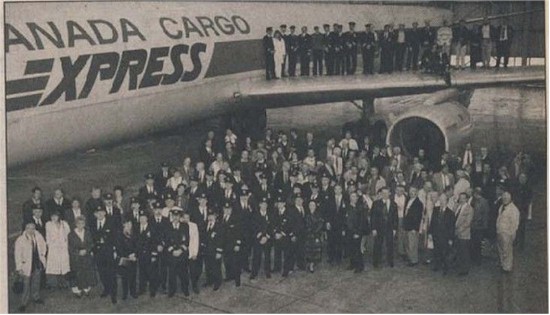 In the photo below are, from left to right:
Jim McCall, Cargo Sales Manager; First Officer Colt Archer; Second Officer Juergen Kuehnen; Captain Ross Emmans; Ian Dawson, Cargo Sales and Service Coordinator; Willie Kerr, Commissary Coordinator; Dave Auld, Cargo Sales and Service Coordinator; Colin Kennedy, Cargo Sales and Service Agent and Constable Willie Kennedy.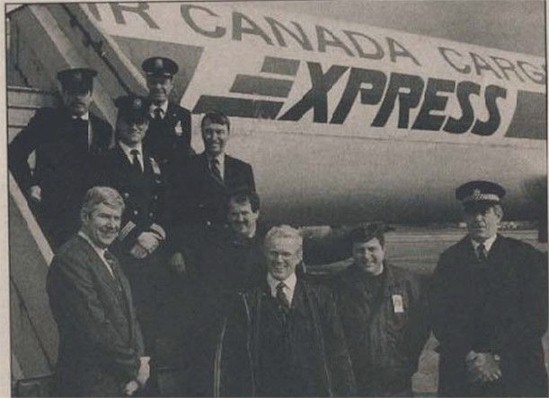 ---
Service Anniversaries total 70 years.
The 'ARTOS' project was put on hold to celebrate three service anniversaries.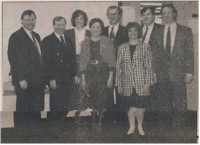 The three ladies receiving congratulatory wishes are (left to right): Lillian Norcott, Supervisor, Data Management/ARTOS Business Analyst (25 years); Maureen Brown, Group Leader (25 years) and Christine Legault, Buyer, Soft goods/ARTOS Business Analyst (20 years).
They are surrounded by (left to right): Harry Hall, Project Manager; Bruce MacCoubrey, General Manager - Purchasing & Supply; Joe Mallory, Director, I.T. - Tech Ops. and Corp. Services; Al Kurys, Project Manager and Jake Levesque, Project Director.
---
RESIII training was conducted in Port of Spain, Trinidad for representatives from various Caribbean islands.
Al Graham, Vice President, Customer Service and Eileen McCoy, General Manager, Customer Service - U.S. and South attended to provide some words of encouragement.
From left to right: Les Nanton, Antigua; Tony St. Hill, Barbados; Ali Ferdinand, St. Lucia; Cliffe West, Port of Spain; Ben Ngafuk, Port of Spain; Gillian Jack, Port of Spain; Eileen McCoy, Miami; Kawal Singh, Port of Spain; Lorna Lord, Port of Spain; Tom Wallace, Port of Spain; Sandra Grant, Barbados; David Greenidge, Barbados; Indra Mahraj, Port of Spain; Dean Demontbrun, Port of Spain; Marie-Claire Maille, Guadeloupe; Errol Dhanpath, Port of Spain; Amela Samlal, Port of Spain and Al Graham, Montreal.

---
Issue dated July 1994.
In 1994, Air Canada celebrated six months of service to India. Hollis Harris, Chairman, President and C.E.O. visited with New Delhi airport staff to mark the occasion.
In the photo below we have New Delhi Airport, Reservations and Sales staff along with several training instructors from London who joined in the inaugural celebrations.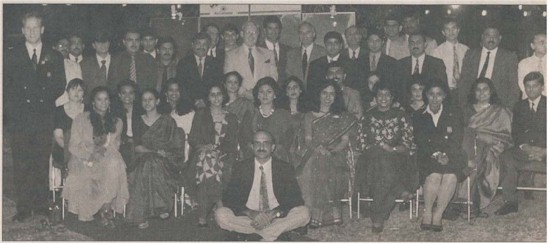 And in this photo, from left to right: Customer Service Agents Venky Venkatraman and Sujoy Ghosh; Hollis Harris; Customer Service Agents Anil Marwah, Madhu Pawar, Joseph D'Cunha and Ash Handa.

---
Way to go team.
The Air Canada Vancouver Dragon Flys joined over 100 international teams in the 1994 annual Dragon Boat Festival in Vancouver.
As reported by Karen Pawliuk.
This year's race attracted teams from as far away as Germany, England and Australia. The Dragon Flys put on a good show, placing third in one of the heats, only three seconds behind the first place boat.
The race was a gruelling three minutes, with all 20 paddlers striking the water in unison, striving to guide the 1,400-pound boat at a beat of 72 strokes per minute. This is definitely a water sport and not for anyone concerned about having a bad hair day.
In this photo we have, front row, left to right: Terry Glass, Dorothy Stauffer, Caro Clark, David Young and George Agnew.
Second row: Karen Pawliuk, Anne-Marie Cathcart, Leslie Poulin, Karen Friedrich, Jack Harland and Todd Wagner.
Back row: Bill Devlin, Earl Einarson, Monica Webb, Danny Budihardjo, Andrea Piscopo, Ian Watt, Wayne McIntyre, Sybil Wyle and Walter Low.
Missing from the photo are: Andrea Stapleton, Doug Garey, Anne Senko and Sharen Rogers.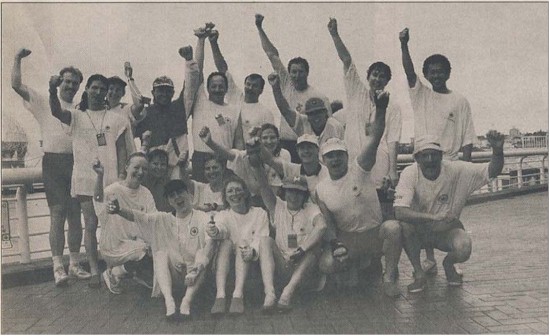 ---
Stetsons and bagpipes for inaugural.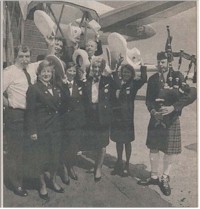 Western Stetsons and Scottish bagpipes may seem a strange mixture, but it's not every day that Air Canada inaugurates service from Glasgow to Calgary and Vancouver. The new route began on June 19, 1994, and continued throughout that summer.
The inaugural crew for flight AC847: Flight Attendants M. Hilson, L. Flather, N. Saunders, A. Connolly and C. Middlestead; Captain R. Shortlil and First Officer Phil Lacey.
---
TCA Alumni reunion.
The 23rd Annual Reunion of the TCA Alumni was held November 22-25, 1994 at the Trade Winds Resort in St. Petersburg, Florida. All former TCA employees were invited to attend the reunion. Membership dues are $5.00, single or couple. The TCA Alumni President was Frank Gormley, of Saint John, New Brunswick.
---
A pandemic isn't going to stop the Dorval Base AC Technical Shops group from getting together - in an appropriately distanced manner.
Each second Wednesday, weather permitting, Gaby Castellani arranges for about two dozen of this Quebec District group to have an outdoor "COVID breakfast". Under the shade of some trees - and the watchful eyes of two bike police on this day - they enjoy one another's company and summer weather.
(Source: Air Canada Pionairs newsletter)