SE 210 Caravelle in Air Canada livery
Did the image in the header of this issue surprise you? Have you been trying to remember when Air Canada operated a Sud Aviation SE 210 Caravelle?
When subscriber Yves Brunelle sent me a link to this image, I jumped right into Google searches to see what I could find out about this mystery aircraft.
Actually, the aircraft was never a part of the AC fleet. It was painted in AC livery for the 2008 French film 'L'instinct de mort', a biopic on the life of Jacques Mesrine who was France's Public Enemy # 1 during the 1970's and briefly plied his 'trade' in Montreal.
I checked the Internet Movie Database (IMDb) for info about the film and found a brief glimpse of the aircraft in the film trailer. I'm not sure how much screen time the aircraft had but it was probably only a few seconds. It appears to depict the film's central characters return to France and greeted by the police and press.
Quite a bit of work and attention to detail for a short scene; they even ensured the Canadian registration of C-GCVL.
Thanks to Peter de Jong for permission to use his photograph.
References:
Original photograph at Airliners.net
'L'instinct de mort' at IMDb
Aircraft info at Planelogger.com
Below are a screen capture from the film trailer and the same aircraft (registration F-GCVL) in Air Provence livery (photo by Mathieu Marquer).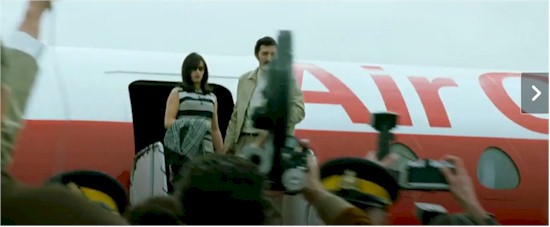 ---