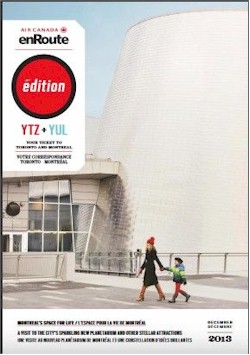 Here is the cover of the enRoute magazine issued December 2013.
The full issue is available at:
---
1995

November 1, Inaugural non-stop service between Toronto and St. Louis, Missouri.
December 1, 'Electronic Ticketing' came to Air Canada.

Initially, 'ET' was tested on a pilot route and offered to customers paying by credit card with Calgary, Regina or Winnipeg as their origin and destination.

1996

January 8, Commencement of non-stop service between Toronto - Philadelphia.
---
Below is a photo of the winners, for the second consecutive year, in the Trans-Canada Air Lines Recreational Association (TCARA) System Curling Bonspiel for 1959.
The Toronto rink from is made up of:
Captain Bill Finlay, 'Skip' ; and Captains Art Hollingsworth, Jake Arnott, and "Dusty" Miller.
The Toronto rink defeated Calgary in the final to win the Pink Trophy. Calgary went on to host the 1960 Bonspiel.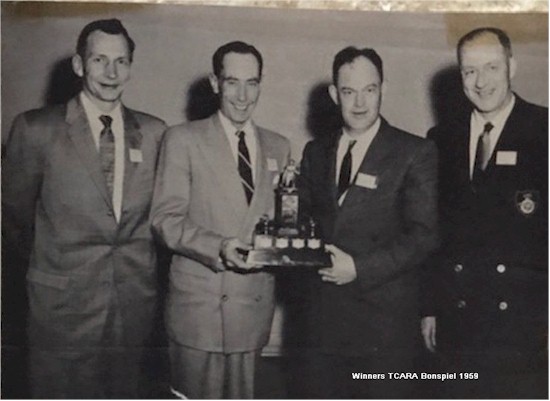 ---

Found in the "Horizons" magazine.
Issue dated August 1995.
On June 19, 1995, Air Canada began non-stop service between Washington, D.C.'s National Airport and Montreal and Toronto making it the first non-U.S. airline to operate scheduled flights into National Airport.
Dorval's ramp team were geared up for the Washington inaugural and gave the new route a big thumbs up.
Standing in front of the CL-65, registration, C-FRIL are John Killeen, Station Attendant; Gerry Dagenais, Lead Station Attendant; Bob Imhoff, Station Attendant and Douglas Noel, Station Attendant.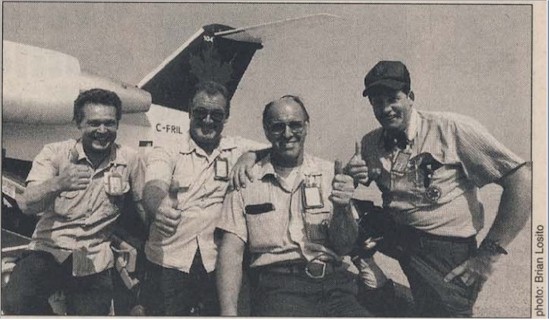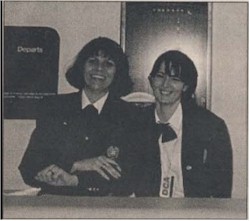 In this photo, Valerie Golowaty and Chrystelle Maglio, Customer Sales Service Agents work Gate 20 in Washington.
---
Issued dated September 1995.
Here we have this photo of the Tampa Reservations Office.
The Tampa Reservations receives calls from Continental U.S.A., including Hawaii, Alaska and the Caribbean. The Reservations office moved from New York to Tampa in March of 1991.
Air Canada has been a tenant of one of the most functional airports in North America, Tampa Airport, for more than 45 years. The first flight landed on April 2, 1950.
From left to right: Customer Sales & Service Agents, Robert Stork, Cohost/Reward; Leslie Field-Bell, Lead Training Department; Virginia Robinson, Ticketing; Catherine Hattais, Groups; Janice Williams, Rates; Tony Iudica, Media and Janice Riccillo, Prepaids.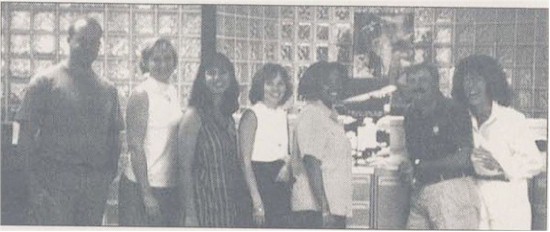 ---
Issue dated November 1995.
Frankfurt Reservation staff eagerly await the launch of Air Canada's new direct service linking Vancouver and Calgary directly to Frankfurt with three weekly departures.
Shown are: Domenico Carola, Maritta Rauschmayr, Elke Strunkheide, Iris Weiermann, Werner Riedl, Karda Dengiz, Kerstin Wahl and Silke Muller.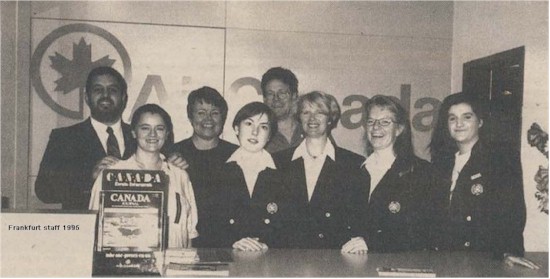 ---
Issued dated June 1996.
First employee of TCA is honoured.
Major Donald Roderick MacLaren (1893-1988) had a brilliant flying career and also had the honour of being the first employee of Trans-Canada Air Lines in 1937.
MacLaren helped select the first flight crews for the national airline and continued to work on the west coast for TCA in various capacities, including Director of Passenger Services, until his retirement in 1958. His contributions to Canadian aviation were recognized by the Air Force Officers' Association in Vancouver. The members had a bronze bust of MacLaren placed at the Vancouver International Airport.
The bust is (was) located in the concourse leading to the new terminal.
Editors' note: Has anyone noticed if this bust is still visible?
Additional reference:
Read more about Major MacLaren's distinguished RCAF career at:
en.wikipedia.org/wiki/Donald_MacLaren
and
www.thecanadianencyclopedia.ca/en/article/donald-roderick-maclaren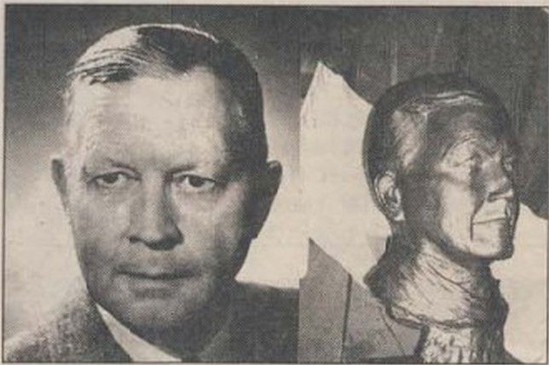 ---
Keith Macdonald, Manager, Customer Service - Operations at Vancouver, (third from right) was honoured at a retirement dinner after more than 28 years of service.
Not one to take it easy, Keith has gone on to a new career as Airside Duty Manager with the Vancouver Airport Authority.
From left to right: Airport Managers Laureen Davies, Kevin Gleason, Dave Burn, Keith Macdonald, Rob Ramage, General Manager, Customer Service B.C. and Glen Steeves.