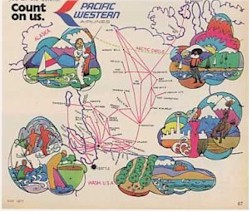 Pacific Western Airlines advert.
Source:
www.vintageadbrowser.com
---
From the "InfoCanadi>n" magazine.
---
Issue dated October 1989.
Effective October 9, 1989, Canadian Airlines and Wardair were managed by a single management group and all operations were carried out and coordinated as a single entity, Canadian Airlines International.
---
Keeping the presses rolling.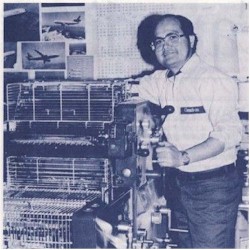 Larry Chao, machine operator, Print Services, Vancouver, cleans one of five printing presses that produce more than 4,000 print jobs a year for Canadian Airlines.
---
Tammy and Timmy fly to new heights.
Toronto Operations Centre was the scene of the Eleventh Annual Take Off With Tammy and Timmy.
Six scenic B-767-300ER flights over Niagara Falls at $20 a seat helped raise funds for the Easter Seal Society for physically limited children.
More than 100 Canadian employee volunteers helped raise $25,000 for the cause from the flights and hat and food sales.
In the photo below, ready for the next flight are, from left, Toronto staff Phyliss Maggio, Bruce Watson, Rita O'Driscoll, Gary Nash and Catherine DaSuza.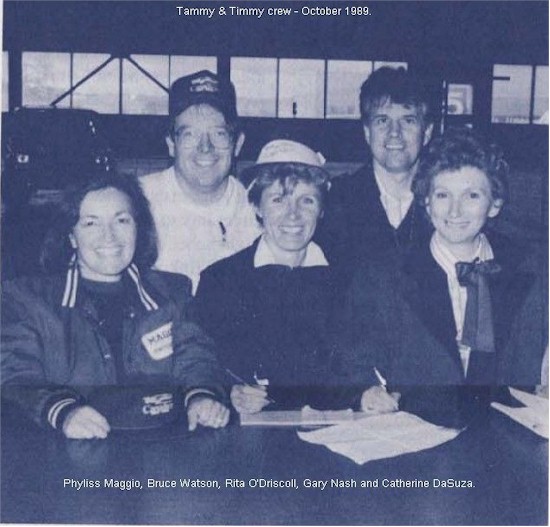 ---
Issue dated November 1989.
Hundreds involved in switch to Pegasus.
After months of preparation, the actual cutover of Wardair's reservation system to Pegasus took two days, October 21 and 22, 1989, of well-orchestrated teamwork by hundreds of Wardair, Canadian and Gemini employees.
Below we have this advertisement.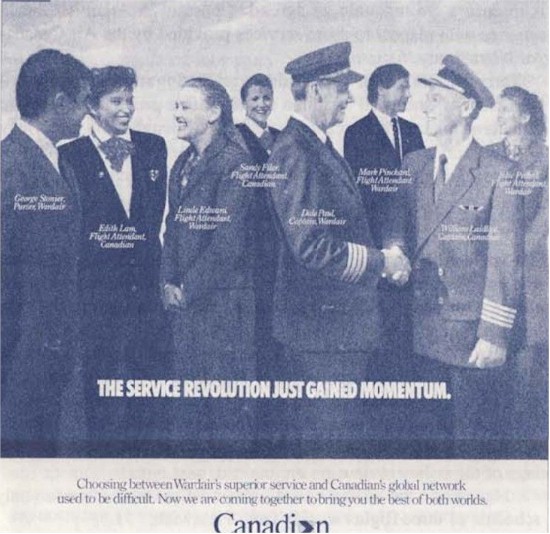 ---

From CPAir News
---
Volume 1 No. 3 - May 1970.
Colourful Ops Centre Opening Marks New Era for CPAir
One of the most dramatic and significant events in the 28-year history of CP Air was staged April 17 in the vast hangar of the new Operations Centre at Vancouver.
Witnessed by hundreds of employees who gathered on the balconies and stairways and lined the perimeter of the seating area, the opening ceremonies featured the unveiling of "aircraft of the year 2000", brief addresses by Ian D. Sinclair, CP Air chairman, and Honourable D. C. Jamieson, minister of transport.

Click the icon to view the original full story