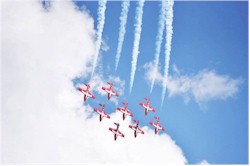 The Canadian Forces Snowbirds have released their tentative schedule for the 2021 show season and are set to return to British Columbia for their annual spring training along with a handful of shows.
Dates include four B.C. shows, including Boundary Bay on July 17, White Rock on July 18, Terrace on July 21 and Abbotsford on August 6 to 8.
The 2021 season will celebrate the team's 50th anniversary.