On November 7, 2020, the Time Air Historical Society posted this information.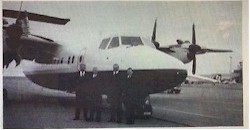 Interesting photo from the Time Air jubilee book. Does anybody recall which Dash 7 was used for these flights and why the Dash 7 was selected to fly the Queen around?
Queen Elizabeth II came to Canada in 1987 and Time Air transported her entourage in Western Canada. Shown here are the crew who flew the aircraft for Her Majesty.
Left to right: Howard Still, Moe Martin, Fred Kinniburgh and Doug Prenevost.
More info is available on the Time Air Historical Society Facebook page.
More info on visits by Her Majesty the Queen to Canada can be found here:
www.canada.ca/en/canadian-heritage/services/past-royal-tours.html