Volume 10 - Number 11 - December 1979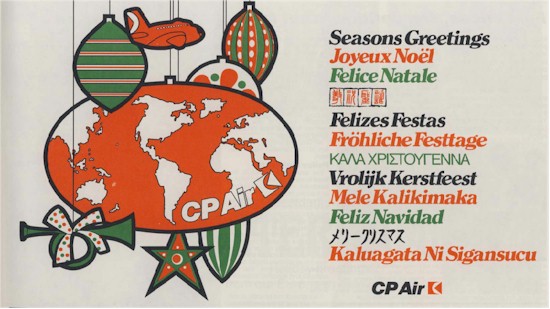 ---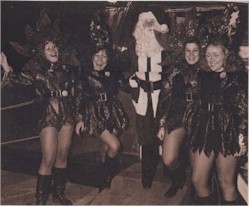 SANTA AND HIS ELVES decided our new DC-10 was more fun than a sleigh and reindeer so they hitched a ride and joined in the fun at the Toronto Ops Centre where some 2,000 employees and their families enjoyed a tour of the wide-body, lots of edible treats, entertainment and displays.
From the left, Toronto staffers are Marian Burnett, Passenger Agent; Mary Pindham, Reservations; in the whiskers, Frank Chorley, Manager Convention Sales; Debbie Batten and Wendy Baldock, both Reservation agents.
---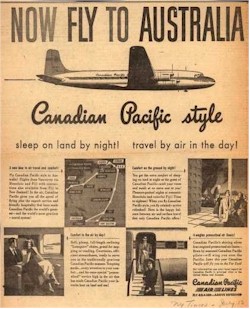 Here we have this early advertisement to fly to Australia on Canadian Pacific.
---
On November 7, 2020, the Time Air Historical Society posted this information.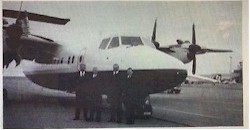 Interesting photo from the Time Air jubilee book. Does anybody recall which Dash 7 was used for these flights and why the Dash 7 was selected to fly the Queen around?
Queen Elizabeth II came to Canada in 1987 and Time Air transported her entourage in Western Canada. Shown here are the crew who flew the aircraft for Her Majesty.
Left to right: Howard Still, Moe Martin, Fred Kinniburgh and Doug Prenevost.
More info is available on the Time Air Historical Society Facebook page.
More info on visits by Her Majesty the Queen to Canada can be found here:
www.canada.ca/en/canadian-heritage/services/past-royal-tours.html