From Charlie Burtch -
Thought this photo might be of interest to folks.
Editors' Note:
This image originally appeared in CP Air News Volume 11 No. 7 in July 1980 with the caption below:
Projected Traffic patterns and development of CP Air's winter 1980-81 and summer 1981 schedules for Western Canada Services were the main topics of discussion at the airline's semi-annual regional managers' meeting held June 18-19 in Whitehorse.
From left, on the wing of a restored CPA DC-3 at Whitehorse Airport, are Dan Burton, Grande Prairie manager; Wolf Wiedemann, Vancouver, assistant vice-president, sales and service; Norm Dawkin, Fort Nelson manager; Vic Cheropita, Watson Lake manager; Ralph Sharp, Prince George manager; and Norm Dartnell, Fort St. John manager.
From left on ground, Hammy Smillie, Vancouver, senior reservations controller; Chris Ketchum, Vancouver, route planning and development manager for domestic routes; Warwick Beadle, Whitehorse manager; Paul Kirkpatrick, Vancouver, route analyst; Al Vance, Vancouver, sales planning manager for Western Canada Services; Tom Laurie, Terrace/Kitimat manager; George McBurnle, Vancouver, public relations representative; and Bill Shilvock, Vancouver, director of Western Canada Services.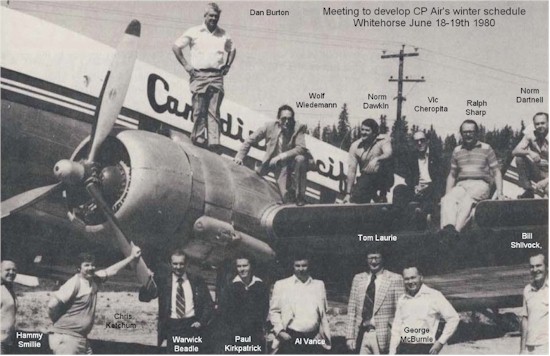 Additional note from Ken Pickford -
The retired DC-3 in the photo is the one that was later mounted on a pedestal and rotates with the wind like a weathervane. It's at the Yukon Transportation Museum adjacent to Whitehorse airport.
Related item on the DC-3, with YouTube video (from 2012, posted by author of the article).
www.explorenorth.com/library/aviation/cf-cpy.html
More recent video from August 2019:
---
Halina Scharich posted this photo on CP Air Employees Facebook page of the YVR Flight Attendants class of 1968, with the question: "Does anyone recognize the new flight attendants?"
Dorinka Williams responded with this information -
Let's see if my memory serves me well. ln the front left to right: Peter Herbold, Halina Scharich, Reia Kayamori, Margo Stockwell, Judy Tenant, Jane Pedlar, Dorinka Williams, Dorinka Belos, and then, Kay Horigani, Kit Nicholson (Hallaran), Eve Hagi, Van Aarp.
Back row: Ron Chisholm, Johnny Cheung, Jerry Guinard, Gerry Rotherham, Linda Favell, Linda Davies, Fred Hoffer, Ron Cook, Robert Mullineau and Dave Sheppard.
---
Edda Wagner posted this photo on Facebook on November 9, 2020.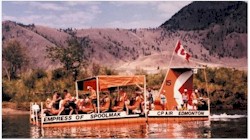 Found this picture today, some of you might remember working this for the Klondike days; taken in either 1981 or 82.
When Roger Shergold saw the post, it jogged his memory and he responded with -
She was originally the Empress of Edmonton, apologies to aircraft 710. Built to take part in Klondike Days in Edmonton, and she was the brainchild of George Foster.
A local truck owner helped us out by hauling her to the river for the raft race. We parked her on a grassy slope with all the other rafts and many of us spent the night on her. Many barbeques and beer. Next day the crowd helped us get her into the river and away we went. We won first prize!
The next year we got her to Kamloops thanks to the same trucker and CN Rail who let us use a gondola car to get her there. We came second, and hauled her back to Edmonton by rail and truck. Later that year we entered Klondike Days again. After the race, we tied her up by the river bank, and since the weather was getting wet and windy, we left her there.
Next day the weather was still nasty, so we didn't go back until the following day. She was gone. Slipped her mooring either on her own or with help, we didn't know. She was never seen again. I like to believe she made it all the way to Hudson Bay and then into the Atlantic, and then stuck in the ice. She'll be found hundreds of years from now and be the subject of songs, like the Edmond Fitzgerald. Or History students will study her and get degrees!
Anyway God bless her and all who sailed on her.