1996

June 1 - All scheduled flights moved from Edmonton Municipal Airport (YXD) to Edmonton International Airport (YEG).
Skyriders - Air Canada's young flyers program launched.

2020

December 15 - First non-stop flights from Toronto Pearson to Doha, Qatar with B-787-9.
December 18 - First non-stop flights from Doha, Qatar to Toronto Pearson with 787-9.
---
Each Christmas, for the past several years, some 32 retirees from the C & SS department in Dorval have been exchanging e-mail greetings for the Christmas season.
This year all were concerned that the Covid-19 has interrupted their retirement plans to varying degrees, but look forward to better times during 2021, including the hopes that a ZOOM session will be arranged.
---
TCA Alumni Reunion.
The 25th Reunion of the Trans-Canada Air Lines Alumni was held November 25-29, 1996 at the Tradewinds Resort, St. Petersburg Beach, Florida. Information about the reunion was mailed to active alumni members. All former TCA employees were invited to join the alumni and attend the 1996 reunion. Membership dues were $8 (single/couple) per year. TCA Alumni President was Courtney Greene, Dartmouth, Nova Scotia.
---

Issue dated May 1974.
Era ends with Viscount sale.
The last 24 of the Company's Viscounts have been sold to two Montreal firms in an agreement signed during April 1974.
The total package being sold to United Aviation Services Ltd., and Beaver Enterprises Ltd., also included one simulator, spare parts including engines and propellers, and all applicable ground equipment. The aircraft will be delivered to their new owners in phases to last over a one-year period.
The sale of the British-built aircraft marks the end of an era in North American aviation. The Company, then Trans-Canada Air Lines, put Viscounts into service on April 1 1955 on the
Montreal - Fort William - Winnipeg route. It was the first North American carrier to operate turbine-powered aircraft, thus setting the stage for the dawn of the jet age.
In all, the Company purchased a total of 51 of the 48-passenger aircraft which became the mainstay of the fleet in the late 1950's and early 1960's.
The last Viscount flights took place on schedule April 27, 1974, on the Sault Ste. Marie - Toronto - Montreal - Ottawa-Val d'Or return, and the Montreal - Quebec City - Fredericton - Saint John - Moncton - Halifax return routes.
---
Issue dated October 1995.
AirBC staff.
July 29, 1995 marked five years since the the AirBC Reservations team joined forces with Air Canada at Vancouver.
Shown here after receiving their 5-year Air Canada pin are, front row, kneeling: Joyce Chow, Kim Floritto, Aletta McLaffery, Mona Raouf, Betty Staughton.
Standing: Lisa Walkley, Karen Newberry, Kathy Waters, Suzie Ong, Caro Clark, Linda Daigle, Connie Rock, Pat Van Dyke and Nancy Goudy.
Back row: Janine Crocock.
Missing from the photo: Tracey Bushell, Judy Bylander, Jaydee Colins, Maria Nicol, Marc Gagnon, Annie Hiekel, Sharon Mason, Kyle Nowroski, Brian Stuski and Kathi Szaabo.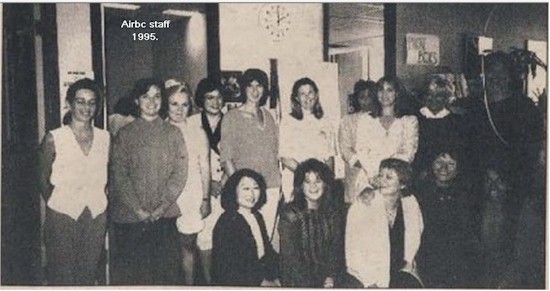 ---
Issue dated April 1996.
In 1996, Moncton Customer Sales and Service Agent George Surette (centre) receives congratulations on his 30th anniversary.
From left to right: Terry Murphy, Customer Sales and Service Agent; Marcel Guilbert, Manager, Customer Service and Customer Sales and Service Agents Marie-Reine Gaudet and Earl Nickerson.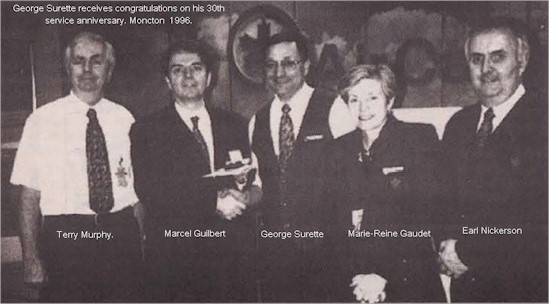 ---
Issue dated May 1996.
The Delhi Sales, Accounts and Reservations team gathered to celebrate "The Festival of Lights".
Back row, from left to right: Rakesh Bhambri, Ratindra Jan, Henry Moses, Saurabh Karnik, Vishesh Knanna, Ramesh Marwah, Paul Dhillon.
Third row, left to right: Amrita Sihota, Mona Choudhuri, Shilpa Sharma, Sarabjot Gill, Ruchi Banerjee, Ritu Khanna, Althea Mackrodt, Rachna Kohli and Anita Malhotra.
Second Row, left to right: Shahjan Paul, Sonica Baijal, Mukat Kaur, Ramesh Singh, Akhil Anand, Ramesh Kumar, Ranbir and Marietta Fernandes.
Front row, left to right: Punit Trikha, Naresh Misra and Thomas George.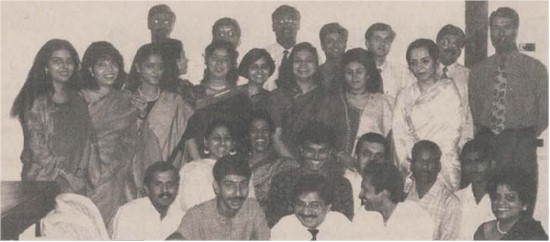 The Operations office at Indira Gandhi International Airport was opened with an Indian "Pooja" ceremony during a station visit by Zachary Clark, General Manager - Passenger Sales International.
From left to right: Customer Service Officers Ash Handa and Joe D'Cunha; B.N. Joshi, Airport Service Manager; Madhusudan Pawar, Customer Service Officer; Paul Dhillon, General Manager - India; Customer Service Officers S. Venkatraman, Anil Marwah and Zachary Clark.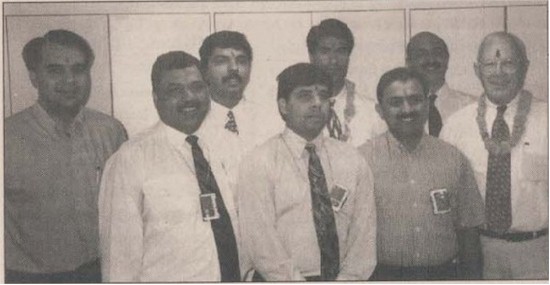 ---
Issue dated July 1996.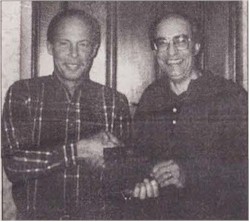 Joe Trimarchi, Regional Sales Manager - New England (right) receives his 30-year anniversary pin from Ron Waters, General Manager, Passenger Sales - U.S. and South, at a U.S. sales meeting.
---
At Mirabel (YMX), Customer Sales and Service Agent Murielle Saint-Germain celebrated her 35th anniversary with her friends and colleagues.
From left to right: Customer Sales and Service Agents Lise Legault-Dafoe, Claire Gagnon, Liette Parent, Anna Lemay and Gérard Chalifoux; Guy Comtois, Manager, Customer Service; Customer Sales and Service Agents Robert Bentley, Héléne Haanpaa and Micheline Tremblay.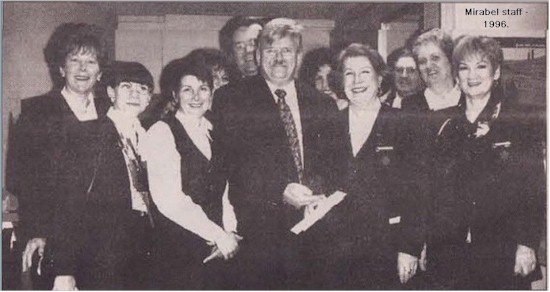 ---
Issue dated August 1996.
Air Canada Turned One in Israel.
Air Canada's dynamic team in Tel Aviv celebrated the airline's first anniversary of nonstop service at a reception at the Canadian Ambassador's residence. Starting with two flights per week in June 1995, passenger demand for the service led Air Canada to boost its flights to four per week in the spring of 1996.
In this photo, from left to right: Sara Dor, Noemi Stein, Motty Klar, Iris Lewit, Avivit Erlichman, Simi Seidenman, Ambassador David Berger, Robert Boulert, Zachary Clark, Meetra Ansari, Shirley Greenberg-Tsadok, Allison Liberman and Hai Malachi.

---
Los Angeles Cargo Customer Service Agent Bill Johnston celebrates his 30th service anniversary with his colleagues.
Back row, left to right: Howard Wargo, Warehouseman; Barbara Emerson, Cargo Agent; Bob Mawhinney, Lead Cargo Agent; Bill Johnston; Bob Lane, Cargo Agent and David Burke, Manager, Customer Service.
Kneeling, left to right: Richie Meier, Warehouseman; Linda Shipke, Cargo Agent and Bob Fuhrmann, Customer Service Manager.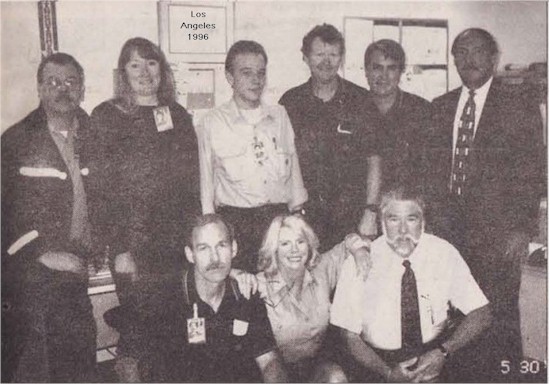 ---
Pionairs hold AGM 1996.
In the spring of 1996, Air Canada's Pionairs held their annual convention in Ottawa. Pionair President Fraser Muir announced that the retiree group would assist the company in updating and developing Air Canada's valuable archival material.
Air Canada Chairman Hollis Harris, Geoffrey Elliot, Senior Vice President, Corporate Affairs & Government Relations and Irene Vazalinskas, Manager, Industry Travel addressed close to 600 participants at the closing banquet. Bernice Paul, Pensions & Estates Administration Manager, was also on hand to answer questions and offer advice to retirees.
In our photo, from left to right: Fraser Muir, President; Laurent Dagenais, Marylin Goulet, Evelyn Cryans, National Secretary; Leo McIntyre, Vice President; Joan Muir, Hollis Harris, Beth Vezina, Wilse Jessee, Past President; Margot L'Espérance, First Vice President; Mary Jessee, Ben Vezina, Treasurer and Leo Goulet, Pension Representative.