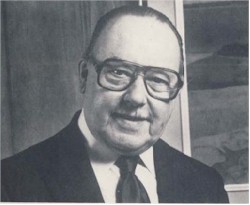 When I first became a member of the Board of Directors of Boreal Airways in 1949, nothing could have led me to believe that this small airline from Lac St-Jean would one day be the Corporation that it has grown to become.
Nordair's rise to prominence has been the result of the concerted efforts of a multitude of men and women whose dedication was equal only to their dedication and hard work.
Indeed, the real strength of Nordair throughout its 39-year history has been its employees - pilots, mechanics, flight attendants, administrators and support staff - many of whom I have had the privilege to know personally.
They have witnessed the numerous changes and events that have fashioned the airline. A new page in our history is about to be turned. Our association With Canadian Pacific Air Lines heralds a new era in the context of the Canadian airline industry. I am confident that Nordair's spirit will live on through the majority of you who will be joining CPAL and I am convinced that you will continue to give your very best.
I would like to take this opportunity to express my deep appreciation to all of you for your loyal support over the years and to wish you all a very bright future