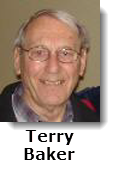 Terry Baker, co-founder of the NetLetter scours the internet for aviation related Trivia and Travel Tips for you, our readers, to peruse.
Answer for the mystery airline in 'Odds and Ends'.
Middle East Airlines, or MEA is the flag carrier of Lebanon with its head office in Beirut. The tree on its tail symbolizes a Lebanon cedar that is native to the country and is the national emblem.
In 1945, Middle East Airlines was established and launched its first service from Beirut to the neighboring countries of Syria, Cyprus, Egypt then Saudi Arabia, Kuwait and other destinations in the Gulf.
In 1963, the airline merged with Air Liban. Despite closure of Beirut International Airport during Lebanon's civil war between 1975 and 1990, MEA managed to survive by leasing aircraft and seconding staff to international airline companies.
With the return to normality in 1990, MEA succeeded in reinstating service to all its previous destinations, strengthened and improved its network to Europe, Middle East and the Gulf.