C-GBIP (Fin # 285) Life Cycle - Prototype #1, Kids' Horizons & a Political Campaign
Subscriber David Hykle sent in the following comment regarding NetLetter #1458:
"That was a good mention of the A319 arriving in the Air Canada fleet. Not only was Air Canada the first operator of this type in North America, we also happen to fly the prototype A319 to this day, although it may be temporarily stored right now for future use. Fin # 285, C-GBIP arrived in the mid 1990's from the Hamburg factory as MSN 546."
Mr. Hykle's comment aroused my curiosity because I am always interested in aircraft with unique histories. He is correct that it has now been withdrawn from service and has been stored at MCI (Kansas City) since January of this year.
C-GBIP was manufactured at Hamburg and first flew on August 25, 1995 as Prototype # 1 (D-AVYV) as the shortened A320 model. It was delivered to Air Canada on April 3, 1998 and re-registered.
The aircraft became very recognizable (and a favourite of aircraft photographers) when the 'Kids' Horizons', 'Horizons Enfance' decals (issue header) were applied in 2008. It became a symbol for the 'Air Canada Foundation' until the Canadian Federal Election of 2015.
The aircraft was leased for September-October campaign by the New Democratic Party and temporarily re-branded 'Tom Mulcair' (photo below). As far as I can tell, it was later re-painted without any further advertising.
References: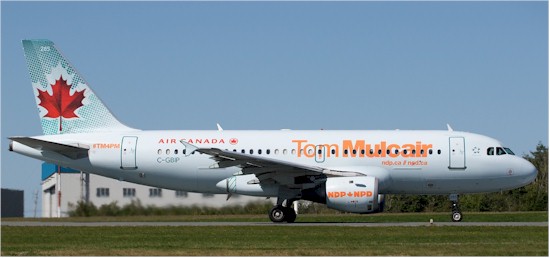 Photo courtesy of Michael Durning at Airliners.net