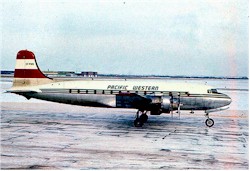 SimpleFlying.com has published a very good story on the history of Pacific Western Airlines entitled 'What Happened To Canada's Pacific Western Airlines?'
Excerpt from the story:
From post-war product Central British Columbia Airlines to part of Canada's second-largest carrier with Boeing 747's, Pacific Western Airlines helped shape the country's aviation history. Let's take a look back at its journey from providing logistics for remote mining camps to its transition to Canadian Airlines, and its subsequent purchase by rival Air Canada.
Click the photo or the link to read the full story.
---

From the Canadian Pacific Airlines Newsletter magazine.
Issue dated October 1963.
---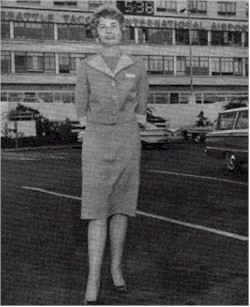 For the first time, CPA has a ground hostess at an off-line point.
She is Hertha Mueller formerly of reservations at Seattle, who has donned a CPA uniform and assists passengers at Seattle-Tacoma Airport who have come from or are destined for points served by CPA.
---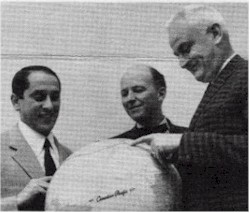 Rome sales representative Amadeo Cimarelli, left, compares notes with Sales Director Frank Holland, right, and General Traffic Manager, Bert Riley.
Cimarelli was in Canada on a Southern Europe promotion, the other two had just returned from an inspection trip to Europe.
---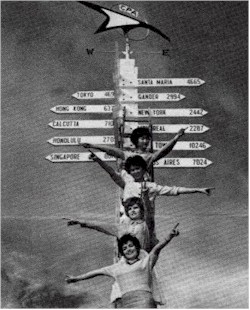 Competing with CPA emblem weathercock on the aerial "mile zero" post overlooking Vancouver on Mt. Seymour are four headquarters ladies representing CPA destinations.
From top, Lorraine Tanaka, Japan, Deanna Wong, Hong Kong, Margaret Heywood, Australia and Marietta Ramaer, The Netherlands.
The sign was erected by North Shore Tourist Bureau with CPA participation.
---
Three ladies on a wing.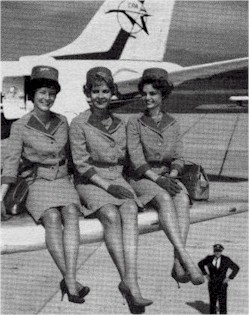 Widespread publicity for CPA resulted from this photo of three stewardesses on a DC-8 wingtip. All are former beauty queens.
From left: Barbara Boyd, finalist for Miss Calgary Stampede, Carol Kish, Miss Pacific National Exhibition and Frances MacInnis, Miss Winnipeg.
That's purser Bob Schumacher far below.