Issue dated April 1979
The CP Air Communications Advisory Group.
Back row from left to right: Stan Sierpina; Larry Lehna; Jerry Kielmann; Jim Thirsk; Mike Gray, Observer; Tony Craig; Wayne Irving; Peter Partridge, Guest Speaker and Lorne Paterson.
Front row from left to right: Val Tearle; Nina Morrison; Georgia MacFadyen; Tom Laurie; George McRobbie; Sherann Broder, Secretary, Al Bingham; Frank Healy; Jack Webb; Golfer Extraordinaire Cum Founder.
Missing from photo is Peter Golding, CP Air News Editor.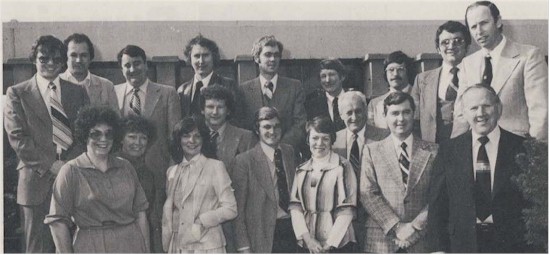 ---

Issue dated January 1964.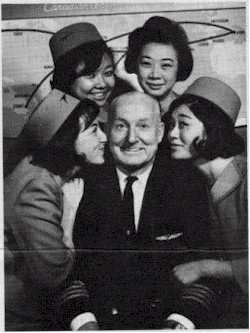 Two New Year's Eves brought double kisses for DC-8 Captain Cec McNeal from stewardesses Ina Laesecke, left, and Kumi Miyama, as Althea Young, left, and Eileen Suen kibitz behind.
Situation resulted from crew crossing Date Line on December 31, 1963 Hong Kong-Vancouver flight. Photo was used to publicize Orient route, received wide coverage across Canada and overseas.