Boeing 314 'Clipper'
While doing my research for recent articles on the CP Air 'Empress' and Pan Am 'Jet Clipper' fleets, I have been fascinated by the tradition of naming aircraft similarly to ocean liners fleets of the early 20th century. In retrospect, it seems to be such a natural part of the evolution of travel.
So when I received a notification from the Simple Flying YouTube channel entitled 'The Plane that Had It All: The Rise And Fall Of The Boeing 314 Clipper', I immediately had to watch it.
Pan American Airways was looking for a 'flying boat' so Boeing modified the cancelled XB-15 to develop a luxury aircraft capable of take off and landing on water.
Twelve 'Clippers' were built between 1938 and 1941 with nine of them serving with Pan Am and three with BOAC. The concept behind the 'Clipper' was an attempt to recreate the shipboard atmosphere in the air. It made the first scheduled trans-Atlantic flight June 28, 1939. Passengers looked down at the sea from large windows and enjoyed the comforts of dressing rooms, a dining salon that could be turned into a lounge and a bridal suite. The Clipper's 74 seats converted into 40 bunks for overnight travelers. Four-star hotels catered gourmet meals served from its galley.
Registration G-AGCA flew Winston Churchill and Lord Beaverbrook (Minister of Aircraft Production) back to the United Kingdom in mid-January, 1942 after the British Prime Minister's extended stay in the United States following Pearl Harbor. Churchill was the first head of government to make a transatlantic crossing by plane.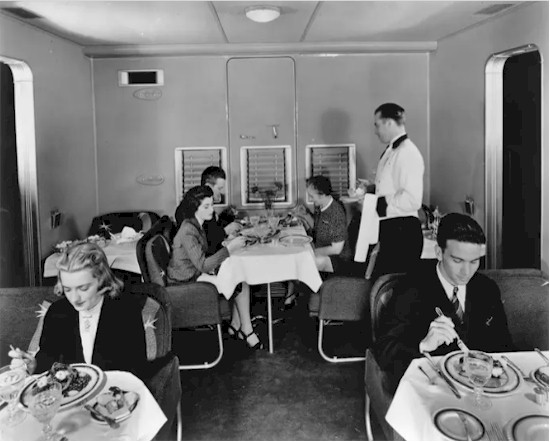 For more info on the 'Clipper', click to image below to view the video.
Additional references: