Found on the Nordair Facebook page –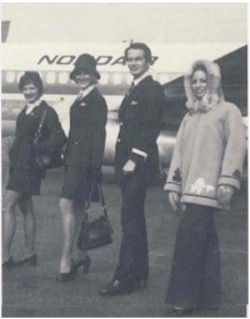 Carle Chadillon posted this photo of the Nordair uniforms introduced in 1972.
Modelling the uniforms are, from the left: Carole Boucher, Nancy Kelly, Paul Gauthier and Diane Thériault.
---

Collected from CP Air Employees Facebook page.
Adverts for 'Canadian Pacific Madrid' and 'Across the Pacific'.
---
Adverts for Canadian Pacific Air Lines 'Straight to the point' and 'Service to 5 continents'.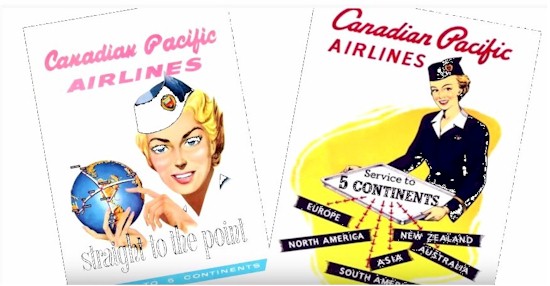 ---
Photo of CF-BMW, fin #213, a Barkley-Grow T8P-1 originally owned by Yukon Southern Air Transport acquired by CPA January 8, 1943, eventually sold to Associated Airways of Edmonton on December 8, 1949.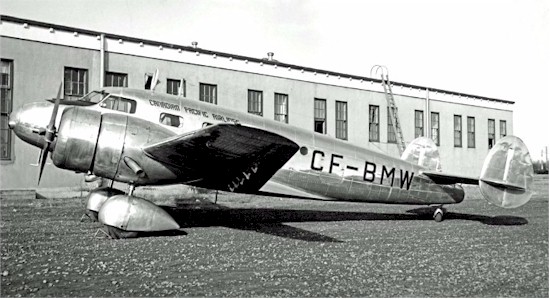 ---
This is CF-CPK, fin # 266, a Lockheed 18-56 Lodestar c/n 2534 allocated to CPA by the USAAF on July 29, 1943 and sold to Canada Packers, Toronto on September 22, 1950.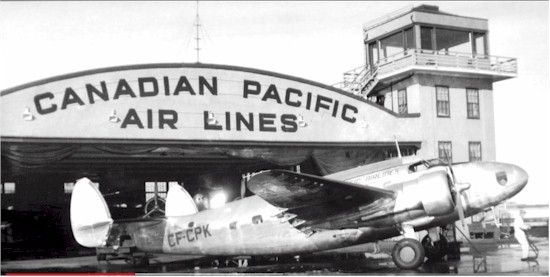 ---
Some early stickers and timetables from airlines acquired by CP Air.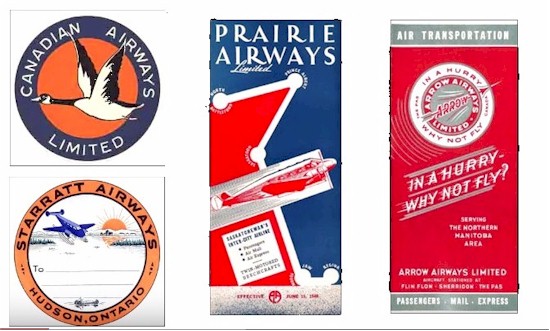 ---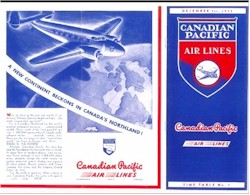 Another Canadian Pacific Air Lines timetable effective December 1943.
Source: Additional information from "Canadian Pacific Air Lines - Its History and Aircraft" by D.M. Bain.
Available at Amazon.
---
From the "InfoCanadi>n" magazine.
Issue dated July 4, 1987.
What's in a name, eh? Quite a chuckle when the peculiar Canadianism "eh" is added to the corporate logo!
Some Calgary maintenance staffers used cardboard letters to conjure up this humorous photo. No harm in a little fun, eh?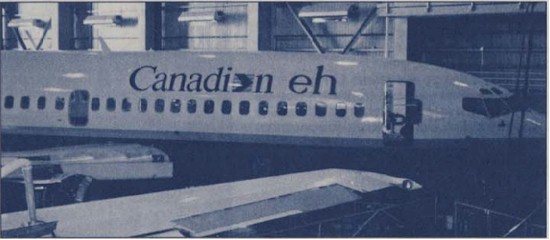 ---
Issue dated August 20, 1987
All of the employees of Ontario Express Ltd., our Canadi>n Partner airline in Ontario, were on hand for this photo which recently appeared in a Toronto newspaper.
Part of the company's Jetstream 31 fleet is positioned in the background. The company began operations on July 15.
As a goodwill gesture, Canadi>n employees were offered service charge waived passes on Canadi>n Partner until the end of August, 1987.