Plane to See: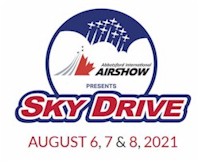 Abbotsford International Airshow back in 2021 as drive-in event.
Organizers of a popular British Columbia airshow are adapting this year's event so it falls within the boundaries of provincial health measures but also permits fans to attend the display of aviation talent.
It'll be called 'SkyDrive', turning the show into a drive-in affair where attendees can enjoy the airborne feats of aerobatics from the comfort of their own 20′ x 20′ parking space on the airfield.
The three-day event will be held at the Abbotsford International Airport and runs from Friday, August 6 to Sunday, August 8, 2021.
Tickets are priced between $99.00 and $199.00 per 'carload' of people (just like the '50's movies!)
Source: abbotsfordairshow.com