Here is the cover of the enRoute magazine issue May/June 2021.
Singer/songwriter Jill Barber and author/broadcaster Grant Lawrence with their children hiking near their cabin in Desolation Sound, British Columbia.
Click the image to view the full issue.
---

Found in 'Horizons' magazine
Issue dated September 1992.
Bye-Bye Irene.
LaGuardia Customer Sales Agent Irene Bye was the centre of attention when she announced her retirement after 25 years of service.
Wishing her well are, from left to right:
Renée Heiser, Customer Service Agent (kneeling); Barbara Cronin, Secretary; Customer Service Agents Maria Vocilla, Nancy Porterfield, Regina Geber, Suzanne Cummings and John Ring, Airport Manager.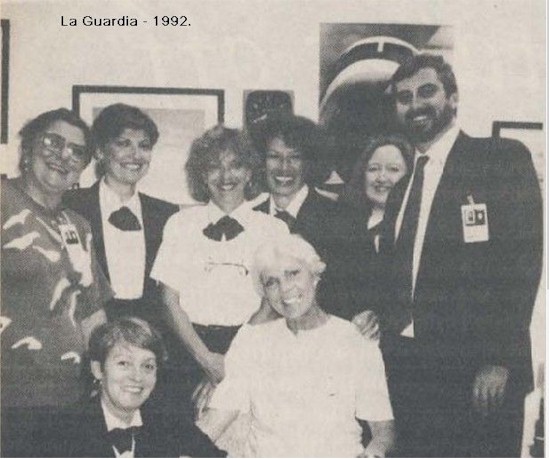 ---
Issue dated October 1992.
YWG achieves perfect record.
Congratulations to the Winnipeg Phase Check Crews, who had recently achieved two consecutive months without any delays on A320 work events.
The proud crew shown here, from left to right:
Collin Latta, Don Mazur, Rob Meyer, Mike Clarkson, Willy Degner, Dave Brulotte, Len Kardashinski, Harold Sledgers, Jim Lucas, Len Evanchyshin, Walter Tataryn, Paul Campbell, Jeff Chisholm, Mark Harris, Mike Melnyk, Dennis Mackay, Gerry Hunt, John Nero, Kerry Gluck, Rolly Gauthier, Jeff Gervais, Dave Rowe, Brian Alderdice, Randy Dodson, Bill Schaefer, Dale Zikman, Marty Macri, Dean Hallman, Dave Gillis, Peter Styles, Dave Guille, Tom Kay and Robin Williamson.

---
Issue dated November 1992.
LAX celebrates silver anniversary.
The City of Los Angeles recently presented Air Canada with a commendation congratulating the airline on 25 years of service to the city. The ticket counter staff at Terminal 2 proudly show off the official document.
In our photo we have, from left to right: Berit Vickter, Adrienne Everakes, Chantal Sullivan, Jeannine Berger, Diane Kelly, Linda Shipke and Laurice Messih.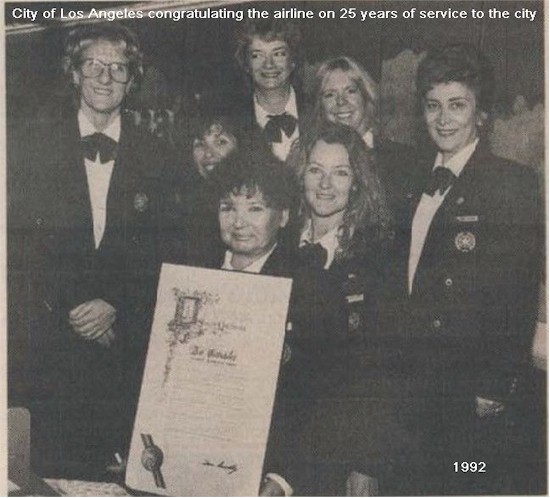 ---
YEG service anniversaries add up!
These Edmonton employees are proud of their combined 150 years of service. Celebrating 25 years each with Air Canada during 1992 are, from left to right; Customer Sales and Service Agents
Shirley Shapansky, Lavina Lychuk, Dennis Haskell, Deanna Carter, Cliff Oatway and STOC Coordinator Tom Milloy.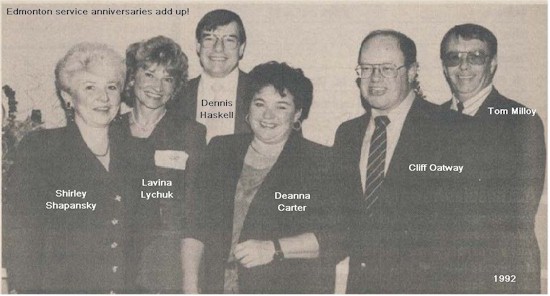 ---
Team effort results in top performance at YUL.
The Auxiliary Power Unit (APC) section and the support groups in Dorval's Power Plant Shop achieved a 100 percent spare engine availability during 1992, an Air Canada first. "This resulted in the least amount of disruption to airline operations and contributed to the company effort to make the '92 plan work," said Ray Fournier, Manager, Power Plant Production.
Here are some of the members of the APU team taking time out to pose for a picture, from left to right are:
Raymond Fournier, Tom Fodor, Graham Geraghty, Hans Muller, Raymond Charron, Edward Sarvis, Gaston Denault, David Cordery, Oliver Martins, Louis Beauchemin, Philip Constantine-Garrett, Francis Ruest, Raymond Mayer, Jacques Dionne, Allan Plamondon, Alain Godbout, Allison Weidlich, Denis Sauvageau, Richard Hum, Carl Olynyk, Geza Horvath, Les Lovasz, Peter Zeigler and Peter Ratcliffe.
Missing from the photo are: Garth Chapman, Gilles Vaillancourt, Gilles Bouvrette, Réal Roy, Jean-Pierre Dupaul, Al Coull, John Charles Geall, Raj Chawla, Luc Parent and Ken Ashton.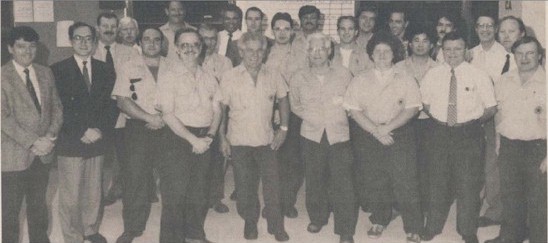 ---
Twenty-five years is a piece of cake for Regina Lead Station Attendant Glen Hansen.
In this photo, Glen Hansen (far right) shares his anniversary cake with some of his co-workers.
From left to right are: Station Attendants Currie Stephenson, Pat Grandy, Shawn Engel, Rob Heenan and Bernie Wagner.