Issue dated April 14, 1988
Canadian Airlines International accepted delivery of its first Boeing 767-300ER (extended range) in Everett, Washington.
C-FCAB (fin #631) began its career on flight # 131, Vancouver-Los Angeles, on April 17, 1988. It was renumbered fin # 681 during the Canadian/Air Canada merger in 2001.
It retained the same registration during its entire 30-year career, retiring in October of 2017.
As per planespotters.net, it was stored at Marana Pinal Airpark (MZJ) until broken up in December 2018.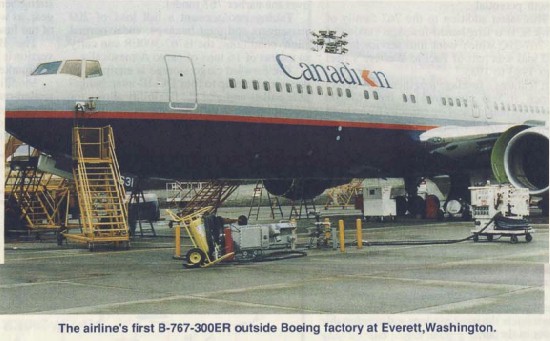 ---
Larry Milberry has put together a blog named 'The Great Lockheed Twins' and can be followed at www.canavbooks.wordpress.com (scroll down the page for the full article).
We have, with permission from Larry, some of the photos and story of those aircraft which ended up at Canadian Pacific Airlines. We will present these over several NetLetter issues.
Excepts via Larry Milberry below.
---
Ex-RAF Hudson CF-CRJ is one of my earliest Lockheed Twin photos. Here it is in a standard 3/4 front view at Malton Airport on October 9 (year unspecified).
Originally USAAC 41-23631, it was transferred to the RAF under lend lease to become BW769. It was delivered to RAF 45 Group (Ferry Command) at Dorval around October 1942, but some accident ensued. It then was acquired by Canadian Pacific Airlines in 1946, repaired and registered CF-CRJ.
CPA added six such Hudsons, but I know little about their use. Perhaps they were spares for CPA's small fleet of L14's. In 1949 CPA sold its Hudsons to the Photographic Survey Corp., which was more commonly known as Kenting Aviation Limited of Oshawa (base) and Toronto (offices).
My earliest copy of the Canadian Civil Aircraft Register (CCAR (1955)) listed CF-CRJ 'K and 'L. These served through the 1950s and early 1960s from the Canadian Arctic to South America, even distant Ceylon on aero-survey contracts.
By good fortune, in 1967 "CRJ" was donated by Field Aviation of Toronto to some history-minded Newfoundlanders headed by A.J. Lewington, DFC. Thanks to this foresight, it survives today in wartime colours at the North Atlantic Aviation Museum in Gander, Newfoundland.
Editors' Note: Our records indicate this aircraft was a Hudson 111, c/n 6448 registered at Canadia Pacific Airlines on May 15, 1946 fin # 241 and sold to Photographic Survey Corporation in May 1949.

---
With permission, we have copies of some PWA documents from the personal collection of Gklavas Athanasios that he started 40 years ago. (Source: airticketshistory.com)
Vancouver-Victoria- Vancouver - September 18, 1973
---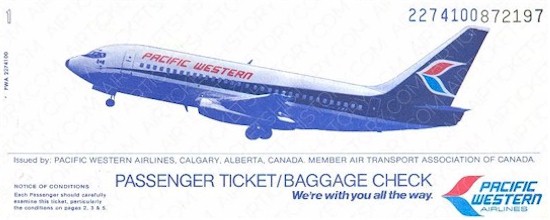 Vancouver - Dawson Creek - October 29, 1978
---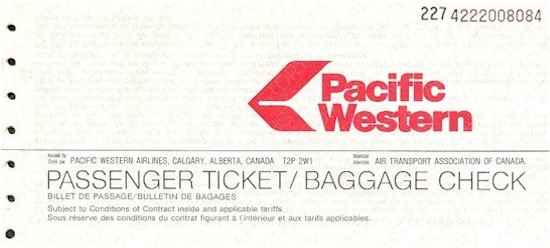 Brandon - Calgary - Edmonton - January 19, 1982
---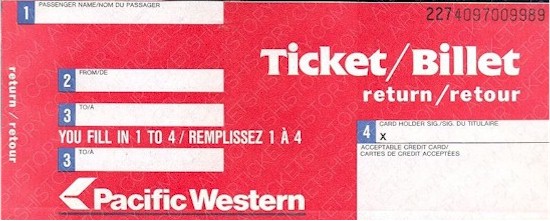 Unused Edition - April 1983
---

Found on the Eastern Provincial Airways Facebook page
Posted on December 23, 2015.
Basic requirements for an Eastern Provincial Airways 'stewardess' (circa 1970), including training, salaries and equipment.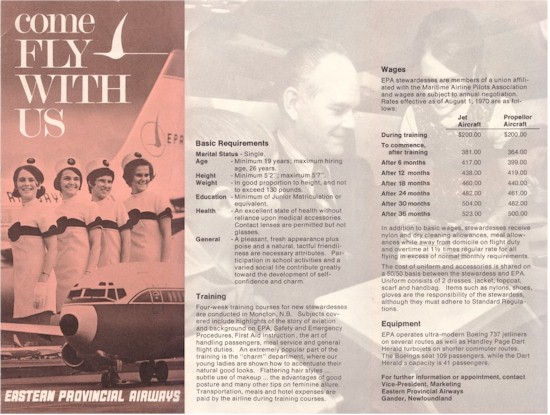 ---
Posted on December 31, 2016.
Yuletide season at Charlottetown.
A special effort was made by our staff to put "Our customers above all" and to capture the holiday spirit. Janet Anderegg and fellow staff employees were responsible for the attractive decorations at our counter. All female staff donned a Christmas corsage, and everyone participated by trying to do a little extra for our customers. As you may note below, we expressed our thanks and holiday message via an insert in the local newspaper.
Pictured from left to right are: Claude Goodwin, Joe Basha, Richard Chaisson, Helen Cox, Paula Kenny, Marilyn Norris, Libby Cox, Janet Anderegg, Janet MacKenzie and Paula MacKenzie.
Missing from the picture are: Marilyn Johnston, Carole Ellis, Terri Cheverie and Don MacCallum.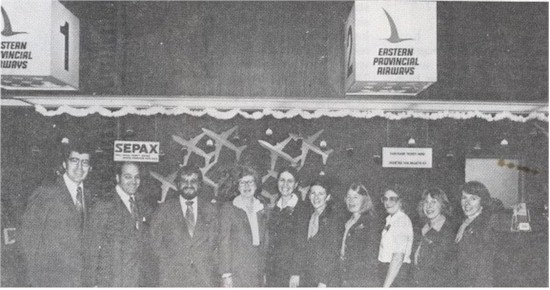 ---
Posted on January 8, 2018.
Eastern Provincial Airways reunion in 1995.
No identifications were provided