C-GDPW - End of 46 Years of Service
Subscriber Vic Bentley contacted us to point out that a recent incident involving the ditching of Transair flight # 810 off the coast of the island of Oahu, shortly after takeoff from Honolulu, involved a Boeing 737-200C that was originally delivered to Pacific Western Airlines in October of 1975.
Fortunately, the only souls on board the cargo flight were the two pilots who were both rescued.
(See: CBC.ca for more details about the incident).
Vic writes: "At that time it was fitted with a forward freight door and the 'gravel kit' - a deflector on the nose gear and vortex generator probes extending under the front of the engine cowl. The retractable airstair passenger entry door was moved to the aft LH side of the aircraft".
Ken Pickford notes:
The name of the Hawaii operator is ironic considering the original operator, PWA, and their 1979 acquisition of a previous 'Transair', the Winnipeg-based regional carrier. The Transair name of the Hawaii carrier is a marketing name. The actual operator of the aircraft was Rhoades Aviation.
.
Boeing line # 427 (serial #21116) was delivered in combi configuration to Pacific Western in October 1975 and remained in the fleet after the creation of Canadi>n Airlines in 1987.
It was acquired by Canair Cargo 1995-97 and then to Montreal-based charter carrier Royal Aviation 1997-99.
It then was acquired by Transmile Air Services of Malaysia until 2014 when it went to Transair, a cargo operator of Hawaii.
At the time of the incident, on July 2, 2021, it had 46 years of continuous service; see the table below.
Additional Reference: www.planespotters.net
Editors' Note: The FAA has grounded Rhoades Aviation, whose Boeing 737-200 ditched off Honolulu July 2, and has also revealed that action against the operator has been in the works since last fall.
Source: AVweb.com
Registration
Airline
Acquired date
Comments

C-GDPW

Pacific Western Airlines
Oct. 1975
Delivery customer
Canadian Airlines
Apr. 1987
Leased from unknown
Canair
Nov. 1995
Royal Aviation Express
Aug. 1997
Purchased Jan. 1998

9M-PML

Transmile Air Services
Apr. 1999
Converted for cargo

N810TA

Transair
Jul. 2014
Written off July 2021
---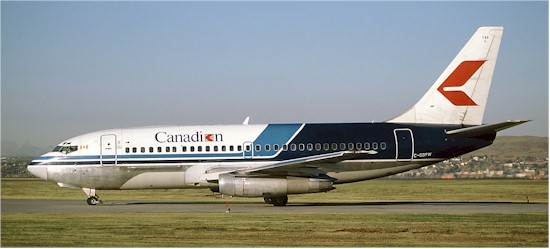 Photo in transition livery from Pacific Western to Canadian Airlines, September 1987.
Courtesy of George Hamlin at Jetphotos.com.
---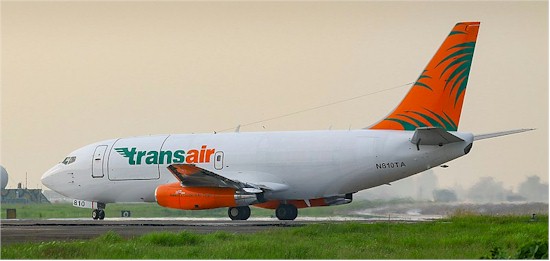 Photo in its final Transair livery by: li cheng TSAI @ commons.wikimedia.org