Ironically registered as C-FTCA (fin #638), this 767-300 came to Canadi>n Airlines in April 1989.
Following the merger of Air Canada and Canadi>n, "TCA" served there from 2001, but also had leases (Ansett Australia, Qantas, etc.).
Trivia notes:
Leased from ACAS Partners LLC.

Wet leased Air New Zealand April 21, 2001 to May 9, 2001.

Wet leased Qantas October 4, 2001.
Flew last trip for Qantas wet-lease on January 01, 2002 from Auckland to Sydney as AC7009 (for internal tracking only).
Then operated as AC1136 on January 04, 2002 SYD-HNL-YVR.
Source: Terry's combo fleet list.
C-FTCA in its original Canadi>n livery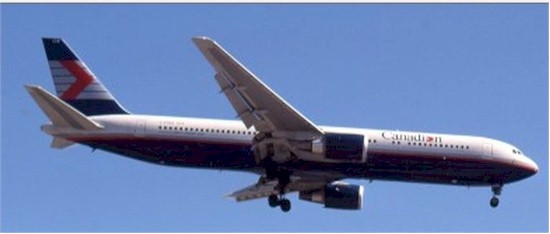 Then, on March 4, 2019, while landing at Halifax from Toronto with 219 aboard, "TCA" ended in a snow bank facing the wrong way; that must have caused a bit of grief on board!
One report explains: "About 2570 meters down the runway the aircraft skidded, turned around by 180 degrees and came to a stop in a snow bank. Ground services reported the runway 100% ice. The chemical truck had just broken down while trying to spray the runway."
Although it's 30+ years old, "TCA" presently is in Tel Aviv for conversion to freighter configuration for Air Canada's expanding cargo fleet (as per www.planespotters.net).
Source: Larry Milberry's blog at www.canavbooks.wordpress.com
C-FTCA flew from Toronto (YYZ) to Tel Aviv (TLV) for cargo conversion on June 7, 2021.
---
C-FTCA in Air Canada livery

---
A few fun historic facts about Air Canada's Boeing 767 fleet:
Air Canada's Rapidair flight AC439 from Montreal to Toronto on June 2, 2020 marked the end of an era as the airline retires the last aircraft from its mainline Boeing 767 fleet.
The B-767's have been a workhorse for Air Canada since the first one was delivered in October 1982 a B-767-233, fin # 601, registered as C-GAUB. The aircraft began transcontinental service on February 14, 1983. After more than 20 years in the skies, the aircraft was retired in 2005 and scrapped.
Air Canada's B-767 C-FCAE , fin #682 (originally Canadi>n fin # 632) flew over 138,000 flying hours before it was retired from passenger service on August 1, 2019, making it the world leader in terms of flying hours for the fleet type. It has been converted for cargo operations and was delivered to Cargojet Airways in September 2020.
The B-767 was initially designed to be operated with a three-pilot crew. Although Air Canada's first few B-767's had an extra-large flight deck, they were configured to be operated by two pilots.
The B-767 was the first aircraft to receive 120-minute ETOPS (extended twin-engine operations) approval in 1985, meaning it could operate two hours away from the nearest airport, making oceanic crossings more efficient. This was increased to 180 minutes in 1988.
Air Canada flew 23 B-767-200 and -200ER (extended range version) aircraft with the variants being retired in 2008. Most of these aircraft were parked in the desert in Mojave, California and some in Roswell, New Mexico.
Some B-767's were retrofitted with winglets for fuel efficiency. The winglets are 11 feet tall! Winglets reduce drag and increase lift at the end of the wings and reduce fuel consumption by helping jets more efficiently slice through the air.
The mainline B-767 had a seating capacity of 24 in 'Signature Class' and 187 in 'Economy'.
It has a range of 10,549 kilometres at a cruising altitude of up to 41,000 feet and a cruising speed of 853 kilometres per hour. Cargo capacity in the belly is a maximum of 14,800 kilograms.
The longest scheduled nonstop flight by an Air Canada B-767 was Toronto to Tokyo, which lasted 13:45 hours and covered 10,324 kilometres.
The B-767 served a number of special missions during its time at Air Canada, including for the annual 'Dreams Take Flight' special charity flights from eight cities across Canada giving special children a trip of a lifetime to a world-renowned theme park in California or Florida.
Source: Air Canada.
---

Found in 'Horizons' magazine
Issue dated July 1998.
Ready to greet the peak, our Tampa Res Office colleagues are geared for another busy summer period!
Pictured from left to right are: Phil Major, Customer Service Agent; Georgina Cronin, Procedures Coordinator; Lynn Gosney, Customer Service Agent; Anna Innis, Customer Service Manager; Monica Porterfield, Administrative Assistant; Mike Bell, Customer Service Manager; Mario Talavera, Customer Service Agent; Bruce Deitsch, Manager, US Reservations; Maria-Luiza Zodrow, Customer Service Agent and Karen Waite, Customer Service Agent.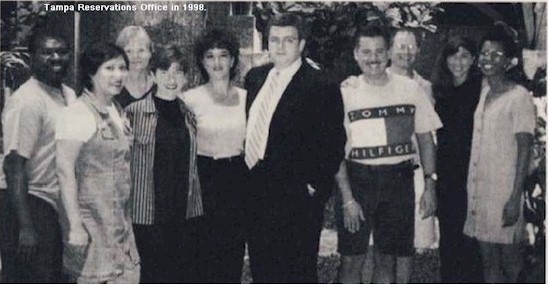 ---
Issue dated August 1998.
More trophies.
A team made up of (left to right) Marcel Lampron, Madeleine St. Laurent, Therese Lampron and Andy St. Laurent represented Montreal at the ACRA System Bowling Championship held in Tampa on May 29 - 30, 1998.
Twelve stations participated. Montreal, the 1997 defending champions, walked away with trophies for best total scores for a four-game scratch. Congratulations to the winning team!
Madeleine also won another trophy for the best score for a four-game total scratch, while Eric Rogers, Toronto (YYZ), won the men's.
Sincere thanks to Norm Steinhart, Customer Service Agent, Tampa (TPA) and his committee for their hard work in organizing the tournament. Everyone had a great time.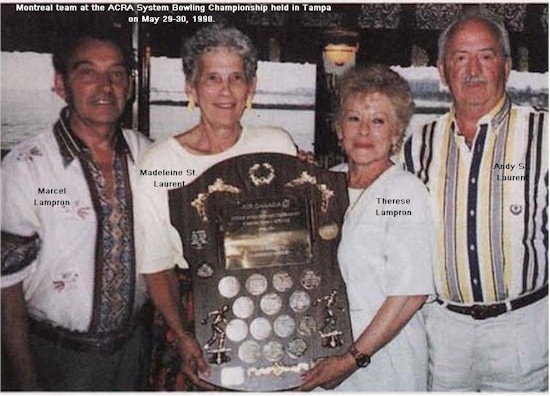 ---
Dorval ice storm plaque presentation.
Employees at the Dorval base main cafeteria were presented with a plaque in recognition of their dedication in extending cafeteria hours during last January's 1998 ice storm. A warm thanks goes out to all employees who devoted their time and energy to help others.
Pictured left to right are, back row: Tont Tibiriu, Cook; John Agudelo, Senior Kitchen Helper; Marc Lefebvre, Station Attendant; Patrick Swann, Kitchen Helper; Guillo Vecere, Kitchen Helper; Réjean Fortin, Manager, Food Services.
Front row: Lyne St-Marie, Boutique Attendant; Julie Blais, Apprentice Cook; Linda Lemieux, Cafeteria Attendant; Isabelle Brousseau, Cafeteria Attendant; Alex Gal, Pastry Chef; Joyce Hylton, Cashier; Jean-Jacques Bourgeault, Senior Executive Vice President; Guy Parent, Chef and Brigitte Beaudry, Cafeteria Attendant.
Editors' Note: Several of the people mentioned above were not actually employed at the cafeteria but had generously volunteered to help out.

---
Issue dated September 1998.
Employees from Quebec City who celebrated an important anniversary are photographed here with their spouses: Jacques Boivin (25 years); Line G. Robinson (25 years); Marc Julien (25 years); Wilfrid Hachey (25 years) and Denis Landry (30 years).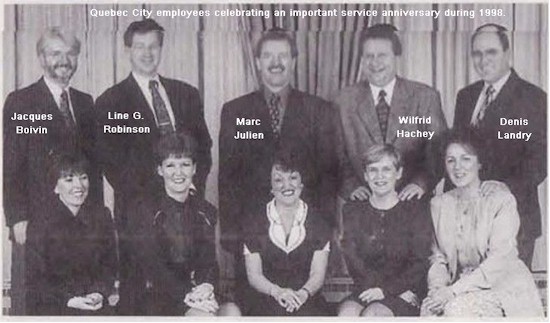 ---
Employees from Ottawa who celebrated 25, 30 or 35 years of service during 1998.
Left to right, front row: Jancy Howell, Marthe Dallaire, Vera Mahoney, Linda Ganly, Michael Legault, Steve Ferguson, Ron Stockwood, Lucy-Ann Greenway and Jean Martel.
Back row: Jean-Marc Trottier, Larry McMahon, Michel Perron, Jim Seath-Smith, Don Demaine, Les Scoales, Wayne Wilson, Bob Robillard, Ed Ste. Marie, Pierre Dupont and René Gauthier.

---
The following employees from Cargo in Dorval celebrated 25, 30 or 35 of service during 1998.
Left to right, front row: Guy Caron, André Pelletier, Gerald St. Martin, Suzanne Buchan, Robert Martel, Shirley Joncas, René Desparois, Robert Lemay, Bernard Frappier and Gil Leroux.
Back row: Pierre Allard, Gaston Greer, Robert Lacombe, Jacques Bissonnette, Jean-Guy Désilets, Lloyd Cahill, Gary Malo, Yvon Constantineau, Jean-Pierre Lacelle, Urs Wiesendanger and Gilles Couillard.

---
Issue dated October 1998.
By Mary Manni, Day of Flight Coordinator, SOC, Toronto.
Some skeptics in the aviation industry thought the "Queen of the Skies" would never fly. However, this bird proved them wrong. On January 22, 1970, the first Boeing 747-100 flight was operated by Pan Am from New York to London, England.
As the dawn of the jumbo jet era approached, Canada's national airline considered purchasing the wide body because the sheer size would allow Air Canada to fly more passengers and cargo to even more destinations, enhancing its image.
In April 1971, Air Canada became the first Canadian carrier to offer B-747 service. Since then, five of these jumbo jets have soared high into the sky with the mighty Maple Leaf on their tails.
Now, 27 years after its first flight from Toronto to Vancouver, the last of Air Canada's B-747-100s is being retired.
"They served us very well over the years and quickly became the workhorses on our long haul markets," says Robert Milton, Executive Vice President and COO.
"Coming to grips with any type of retirement isn't easy—especially when it represents a piece of our airline's history." Milton says. "I think both employees and passengers will miss these Classics. I know I will."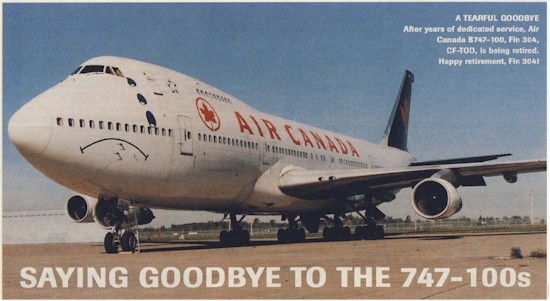 ---
Issue dated February 1999.
First European e-ticket sale.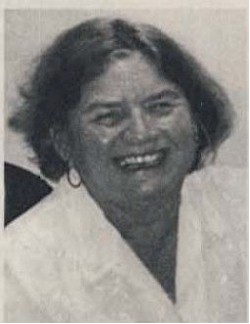 Seven minutes after the U.K. Call Centre opened for business, the first 'E-Ticket' for international travel was sold by Edie Etheridge, Customer Sales and Service Agent.
Sold to a party of five, the ticket was for the total amount of 700 pounds.
Effective December 8, 1998, Air Canada became the first Canadian carrier to offer its customers travelling to or from London, England, the convenience of electronic ticketing.
---

Issue dated April 2016.
(Reprinted with permission)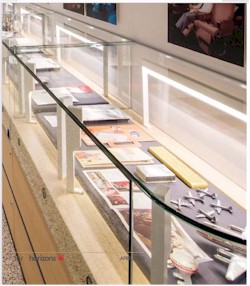 What do a bottle of Absorbine Jr., a "black box", a model of a Bristol 170, Mark 31, and a pair of slippers have in common?
They're all part of Air Canada's 79 years of history and they can all be found in the new Air Canada museum!
Located on the first floor of Air Canada's headquarters building, the new museum, aptly named "Moments," was officially opened in the spring 2016, when Calin Rovinescu cut the red ribbon and opened the doors; particularly appropriate not just because he's the President and Chief Executive Officer, but because the museum results from his own reflections on Air Canada's navigation of the last 79 years.
See the 'Featured Video' section below for more.