"Janet Airlines"
Did you know that there is a 'secret' airline operated by the United States Air Force? "Janet Airlines" (actual name: EG&G Special Projects, Inc.) operates mainly from McCarran Airport in Las Vegas out of a special terminal and transports personnel to their workplaces every day and returns them to Las Vegas later in the day.
One of the workplaces is the mysterious 'Area 51' where the USAF conducts secret experiments and (according to conspiracy theorists) is reputed to be home for 'Little Green Men'... Klingons...Mr. Spock ...Elvis?
"Janet" operates under several call signs with flight numbers with "WWW' as a prefix with its actual destinations kept secret to the general public.
The callsign 'Janet' is a military acronym that is speculated to be 'Just Another Non-Existent Terminal' or 'Joint Air Network for Employee Transportation.
The airline currently operates 6 Boeing 737-600's all of which were formerly with Air China. They were returned to the lessor, General Electric, after Air China inherited them through a merger with a smaller Chinese carrier and had no use for them.
The USAF probably got a good deal on them as there were no other airlines interested. They are all painted plain white with a red cheatline, which probably just makes them more conspicuous.
The airline also operated a fleet of 12 B-737-200's, the last of which was retired in April 2009. One of these aircraft (pictured below) was originally delivered to Pacific Western Airlines (registration C-FPWB) in December 1973. It entered service with "Janet" (registration N4529W) in February 1983 until retired in November 2008. It is now stored at Tucson Davis-Monthan Air Force Base.
As secrecy always leads to speculation it is tempting to assume some nefarious purpose but, as is usually the case, this airline is probably exactly what it seems to be and just ferries military personal and contractors to various bases around the United States. However, conspiracies are still fun, aren't they?
Thanks to Ken Pickford for additional research and information.
Sources:
---
Boeing 737-200 C-FPWB in PWA livery,
September 1980 at YVR
Photo by Gary Vincent @ AirHistory.net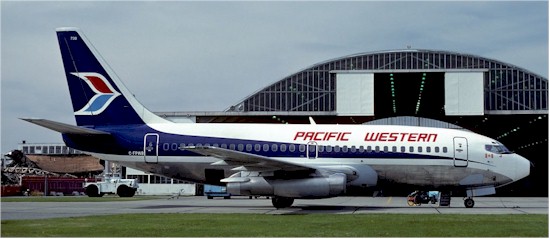 ---
The same aircraft as N4529W in "Janet" livery
August 1988 at Burbank, California
Photo by Guido Allieri @ commons.wikimedia.org