N747PA - 'Clipper Juan T. Trippe' 2nd B-747 built
It is a common cliché that coming 2nd is destined to be forgotten, but being 2nd is still an important place in history.
As the Boeing 747 gradually passes into history as a passenger aircraft after just over a half century in service, and production scheduled to end in 2022 after delivery of the last few 747-8F freighters, it is disappointing to learn of the fate of the 2nd 747 ever built.
MSN 19639, Line #2, registration N747PA was an original test aircraft for Boeing. It was christened 'Jet Clipper America' by Pat Nixon on January 14, 1970 before joining the Pan Am fleet where it became a flagship for a new era in aviation history.
It was involved in an incident in San Francisco on July 30, 1971 where it was severely damaged but it was repaired and returned to service. In November 1973 it was leased to Air Zaire (as N747QC) and renamed 'Mont Floyo'. Returned to Pan Am in March 1975, it was again renamed 'Clipper Sea Lark' and then again renamed (in 1980) as 'Clipper Juan T. Trippe' in honour of the Pan Am founder and driving force behind the development of the Boeing 747.
When Pan Am ceased operation in 1991, General Electric Credit Corporation took ownership of N747PA. This is where its fate took a very sad twist. It would be the last B-747 Pan Am had left when it departed New York in 1992.

Click the YouTube icon for a video detailing 'Clipper Juan T. Trippe' departing from JFK.
Video and Script/Audio John F. Clarke, additional video from Jerry Labrusciano.
---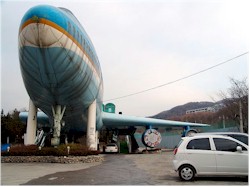 It was leased to Aeroposta the same year and briefly to Kabo Air in 1995. The aircraft would be grounded in 1997 and used as a source of spare parts, due to her airframe approaching the need for a major D-Check and no longer conforming to new noise criteria.
Eventually it was broken up in 1999 at San Bernardino International Airport.
The remains of the aircraft were purchased by a South Korean couple in 2000, converted into a restaurant called 'Jumbo747' and painted to look like a Boeing VC-25A (Air Force One).
After the restaurant shut down in 2005, the plane would lie abandoned for several years. There were petitions and campaigns from numerous aviation enthusiasts for museums or local governments to preserve the historic airplane. Eventually though in 2010, the remains of N747PA were finally scrapped. Seems like quite an unfitting end for 'Jet Clipper America'.
Click the image below to view an excellent video, posted by 'Talking To Myself Productions' on YouTube, chronicling the full lifecycle and fate of this important piece of aviation history.
Editors' Note: The screen capture shows the aircraft receiving a water cannon salute before the departure.
Sources:

en.wikipedia.org/wiki/N747PA