Christmas dinner - in the hangar!
We've all done our share of working on Christmas Day. I always thought that it was more of an inconvenience to my family than myself. I actually quite enjoyed being at work with my extended family.
While looking for Christmas themed photos in old issues of 'Info Canadi>n', I came across one that immediately brought back a special memory of a wonderful Christmas dinner prepared (I was told) in the YVR Ops Centre Paint Shop ovens!
I don't remember the specific year but it was in the early 2000's not long after we OAC (Original Air Canada) stock keepers moved over to the Ops Centre.
As Christmas was approaching, I was told about a lady in the Paint Shop who arranged to cook a few turkeys in the ovens and (with volunteer assistance) prepared an excellent dinner for everyone on duty in the hangar for a small fee. It was a wonderful Christmas dinner which I had the pleasure of enjoying with a great group of new friends.
The lady whose initiative was responsible for the dinner was Noreen Schmitt who, I soon learned, was one of the most respected and beloved employees at Canadi>n. She passed away in 2013 and has been missed by many.
I never got to know Ms. Schmitt beyond casual greetings, which is my misfortune. However, I frequently heard stories of her kindness and generosity.
It's always about the people we encounter in life. Even casual acquaintances can leave us with treasured memories.
Happy Holidays everyone!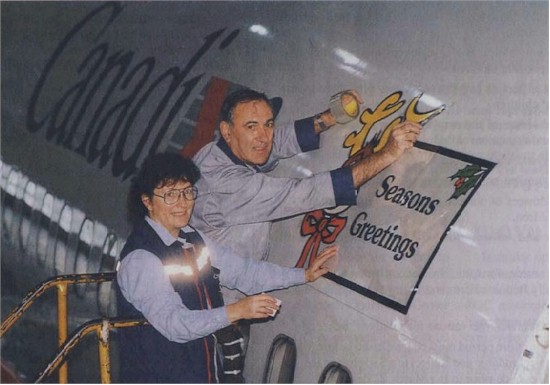 Giovanni Scavazza and Noreen Schmitt, both with
Canadian's Vancouver paint shop installing decals.
Photo from 'Info Canadi>n', December 21, 1989